Chelmsford Taxi Boss Gets Life For Murder
9 November 2015, 11:18 | Updated: 9 November 2015, 11:23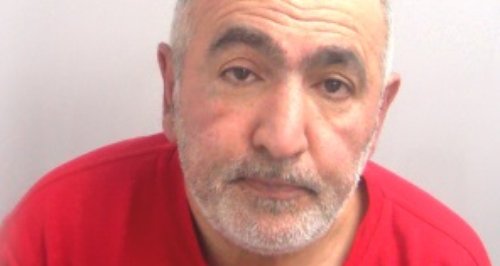 A taxi boss from Chelmsford who ran over and killed his estranged wife's boyfriend in a revenge attack will serve at least 18 years of a life sentence.
Nasser Rezaie mounted the pavement and mowed down mechanic Allan Frampton with his Mercedes in a quiet cul-de-sac

CCTV footage showed the silver S Class smash into the 60-year-old before stopping and reversing over his stricken body five more times, then dragging him along the street.

Rezaie, from Petersfield in the city was convicted of murder after a trial at Chelmsford Crown Court last week and appeared for sentencing on Monday.

Judge Charles Gratwicke jailed the 63-year-old for life with a minimum term of 18 years, the court said.

Prosecutors said the "revenge killing'' was premeditated and the culmination of months of threats towards his wife, Jane Rezaie, and her new partner.

Opening the case at Chelmsford Crown Court, prosecutor Peter Gair said Rezaie had secretly fitted GPS tracking devices to his wife's car.

These sent alerts about her location to his mobile phone so he could follow her every movement - eventually tracking her and Mr Frampton down on the day of the alleged murder.

Mr Gair added: "The defendant was not willing to accept the marriage was over despite being told a number of times by family and friends.

"He clearly wanted to discover their whereabouts. On May 9, no doubt as a result of those tracking devices, he knew where they were and had them in his hands.''

At 2.31pm on May 9, the day of the murder, the tracker sent an alert confirming Mrs Rezaie's car was in Osea Way, where the couple's son and daughter lived.

Rezaie arrived later that day and Mr Frampton made the "fatal error'' of deciding to confront him.

Rezaie drove his car at Mr Frampton as he stood on a grass area by the roadside, then repeatedly reversed, aimed and drove over his victim, the court heard.

After the killing, Rezaie drove to Chelmsford police station and told officers he had been involved in an "accident''.

Rezaie did not dispute that he was driving the car, but claimed he was not guilty because of "loss of control'' due to the emotional turmoil.

The Rezaies had been married for more than 30 years. They have three adult children and ran the firm Ali's Taxis together.

She became "very unhappy'' in the marriage and began a relationship with Mr Frampton, who maintained some of the family firm's taxis, in 2012.

This relationship further blossomed as Rezaie began spending more time in his homeland, Iran.