Colchester Man Left Paralysed Takes On 5k Run
11 April 2018, 09:27 | Updated: 11 April 2018, 09:38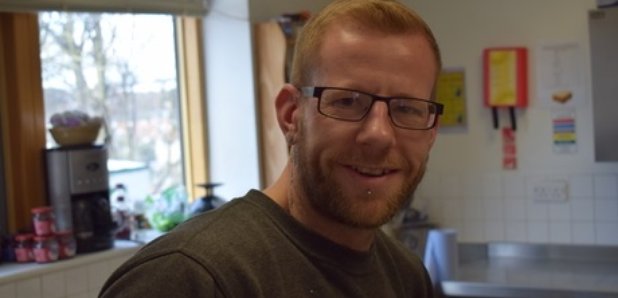 A man from Colchester who became homeless after overcoming the odds and regaining the ability to walk, despite being told there was a 33% chance he would walk again, is now taking part in the 5k colour run to raise money for the homelessness charity that helped him.
Andrew Raison, 29, has teamed up with other Emmaus Colchester companions (formerly homeless people), staff and volunteers to get covered from head to toe in a rainbow of colour on Saturday 30 June at the Ardleigh Showground to raise vital funds needed for the refurbishment and expansion of Emmaus Colchester's community and charity shops.
In 2016, Andrew's life changed overnight at the age of 27: "I woke up paralysed from the waist down and later learned that I have a condition called Transverse Myelitis, an inflammation of the spinal cord which stopped me from walking."
Andrew went from being able to walk, run, and do everything for himself to losing his independence: "I began to isolate myself, and developed a lot of social anxiety. I used to be a really outgoing guy, and could speak to anybody. I felt stuck in a downward spiral and I ended up really depressed."
The neuro-rehabilitation and physiotherapy wasn't working, and Andrew was in a wheelchair most of the time: "I was told that there was only a 33% chance of being able to walk again, and I began to feel really fed up with how my life was. My mind went to a lot of dark places, and I wasn't myself."
The decision to take the 33% chance saw Andrew teach himself how to walk in just three months: "I still only have 50% feeling in my legs – which I guess is good when people stand on my toes. Even though too much time has passed for me to make a full recovery, I can walk and that's all that matters."
Less than a year after teaching himself how to walk, Andrew was evicted from his flat-share after his contract ended. With nowhere to go, he began sofa-surfing for one month: "It was difficult to find somewhere stay every night, and I was desperate for somewhere to settle. The council referred me to Emmaus Colchester, and I joined within a week of handing in my application form."
Andrew is now being supported by Emmaus Colchester, and says that his daughter is the reason he stayed strong through his paralysis and homelessness: "When I became homeless, I didn't want to just sit back and think my life was done – I wanted to keep fighting and make an effort. I didn't want to accept life, and the thought of my daughter kept me strong through being sick and becoming homeless. I honestly don't think I'd be here if it wasn't for her."
The 5K colour run is a way for Andrew to push himself even further and give back to the charity that helped him: "It's all about challenging myself - I learned to walk again, and now I want to learn to run again. Even if I walk the whole way I'll still be able to say that I tried."
Gintare Petrauskaite, Community Manager at Emmaus Colchester said:
"One of the great things about Emmaus is the opportunity to meet truly extraordinary people and, to a certain degree, be able to help them through their remarkable journey. Andrew is that type of the person. I am truly amazed at this inner strength and positivity that keeps him going and overcoming adversaries that the life troughs at him.
Here at Emmaus Colchester, we try to demonstrate solidarity with one another and support each other and I will be extremely grateful for having an opportunity to run with this year`s #TeamEmmausColchester as we are as colourful and unique as the colours that will be thrown at us."
Emmaus Colchester provides a home and meaningful work for up to 34 people who have experienced homelessness and social exclusion, offering them an alternative route out of homelessness within a supportive environment. Companions work full time while they are at Emmaus selling and upcycling second-hand furniture and household items at its two Emmaus charity shops and two warehouses. The income generated through Emmaus' shops goes straight back into the community and enables companions to develop skills, rebuild their self-respect and help others in greater need than themselves.