Colchester MP Holds Cancer Centre Talks
3 March 2016, 06:47 | Updated: 3 March 2016, 06:49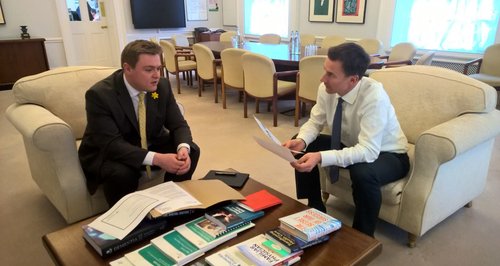 The MP for Colchester says he has met with the Health Secretary about potential funding for a new cancer centre at Colchester Hospital.
Will Quince says it would cost £4.5 million pounds and a campaign is underway to raise the money.
Colchester Hospital says the Cancer Center would be a "centre of excellence for all residents in mid and north-east Essex and the surrounding areas", providing "state-of-the-art facilities in which to deliver first class medical care and the most advanced treatments".
Mr Quince said: "I met with Jeremy Hunt this afternoon to discuss Colchester Hospital's plans for a central and integrated cancer centre at the site.
"The campaign is already under way to raise the £4.5million to make the centre a reality.
"I asked for the Department of Health to consider match funding in future spending plans.
"It's a great proposal and I'm really excited we can make this centre a reality".