Colchester Murder Trial Hears Teen Was Looking For Third Victim
13 April 2016, 06:40 | Updated: 13 April 2016, 06:41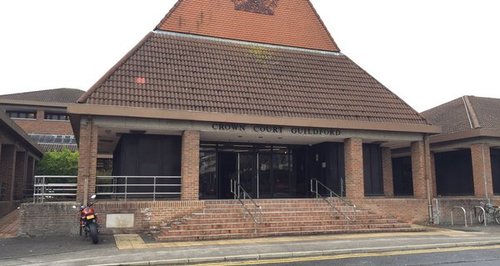 The trial of a teenager accused of murdering James Attfield and Nahid Almanea in Colchester has been told he was looking for a third victim when he was arrested.
The teenager, who cannot be named for legal reasons, has admitted manslaughter on the grounds of diminished responsibility..
He denies murder. He was 15 at the time of the killings.
He claims he experienced voices and visionary hallucinations which compelled him to commit the killings.
The jury heard that the boy, who is in a hospital, admitted stabbing Mr Attfield 102 times in Colchester, Essex, on March 29 2014.
Mr Attfield was found fighting for his life in the town's Castle Park in the early hours of the morning. He died a short time later.
Three months later, the boy knifed Saudi student Ms Almanea along the Salary Brook Trail on the morning of June 17 2014.
The teenager, from Colchester, was wearing gloves when he was arrested after being found with a lock knife on May 26 last year. He has since pleaded guilty to having that weapon.
In clips from his police interviews played to the jury at Guildford Crown Court, the teenager said: "They said we need another sacrifice and I was going to get my third victim but there was no one about.''
He describes his victims as "sacrifices'' and said he thought he was "doing the right thing''.
He told detectives he wanted to find someone who was out on their own but there was not any opportunity, as people were taking buses.
He told detectives he spotted Mr Attfield lying down drunk on the grass, adding: "I stabbed him in the head. One shot missed on the side. I hit him in the eye. There was a big pool of blood. I thought he was dead. He gurgled.''
He also recalled sneaking up on Ms Almanea, saying: "I went behind her and hit her, she stumbled.''
He said: "It was a long knife and obviously went all the way through. I hit her in the eye and killed her instantly. It went through the brain.''
Prosecutor Philip Bennetts QC said: "There is no dispute he killed both people, people he did not know. Both people who had no connection with him.''
Mr Bennetts told the jury that the teenager "understood his conduct at the time'' and "was able to form a reasonable judgment. He said the teenager had made preparations for the killing and ''took steps to conceal afterwards", including throwing the knife in to a fast-flowing river.
The teenager also carried out searches on horrific murders and serial killers including the Yorkshire Ripper Peter Sutcliffe and Kenneth Erskine, known as the Stockwell Strangler, who killed seven pensioners.
A book called The World's Worst Crimes was also recovered among his possessions and he also looked up the Erskine case.
Another search unearthed material called "I was a hunter and they were the victims'', the jury was told.
DVDs found at the boy's premises included Wrong Turn: The Carnage Collection, the prosecutor said, adding the description that ''killers sometimes lurk in bushes waiting to ambush their victims''.
The jury was also told that a DVD about Sutcliffe was found.
Mr Bennetts told the jury that a school blazer was discovered with a knife hidden in the lining, and a latex glove was found among the teenager's possessions.
He also said that ``scientific evidence of the defendant's DNA was found on a swab'' taken from the back of Ms Almanea's hand.
Pc Ben Savory was among the emergency workers who went to the scene after a female cyclist alerted police to the grim discovery of Mr Attfield's bloody body.
He described "a large number of wounds'' and a "huge amount of blood from under his head'' in a statement read out in court. He added that "it was almost as if it was a scalping''.
Pathologist Dr Nicholas Hunt described several injuries, many of which were superficial, to Mr Attfield, but they also included a wound which struck the left jugular vein.
Injuries to the hands, head and chest were among the notable injuries he recorded.
In a statement read out in court Dr Hunt told the court: "It is clear that at least part of the attack has been directed towards the head and face of the victim. This included a stab wound to the left eye - in my experience stab wounds to the eye are uncommon.''
Dr Hunt said: "It may be the stab wound to the eye has arisen by chance but the possibility of deliberately targeting cannot be excluded.''
There were "a large number of defensive injuries'' to the hands, suggesting a "sustained attempt'' to ward off the blows from a weapon, according to Dr Hunt.
Vincent Burgess thought he saw someone sunbathing when he looked out from his block of flats on a built-up housing estate - but he was to discover it was the bloodied body of student Ms Almanea.
Peering through his binoculars across a hedgerow, he could see someone lying down. Then he spotted that their fingers were moving and thought they had suffered a heart attack.
Mr Burgess called in on a neighbour and they walked over to the body. In a statement read out in court, he said: "I was close enough to hear her gurgling, her face was all smashed to bits.
2I told her 'not to worry, we are getting an ambulance to you straight away, you will be all right'.''
Mr Burgess said he was "in total shock''. He remembered feeling "I do not think she is going to make it'', and there was "a lot of blood to the back of her head.''
The hearing was adjourned until Wednesday.