Consultation On Kent Elms Improvements
9 March 2016, 06:33 | Updated: 9 March 2016, 06:36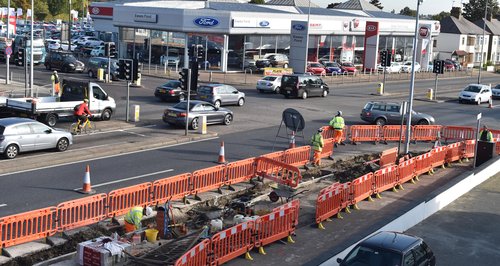 A consultation is due to start later this month into plans to improve the Kent Elms junction in Southend.
Options for improvements to the main junction will be discussed at the council's cabinet meeting next Tuesday (15 March), along with a preferred option that would go to a four-week consultation six days later (21 March).
The council says the preferred option would see the footbridge demolished and replaced to allow new lanes to be created.
If approved, the work would start this summer with aim of being completed by March 2017.
Cllr Martin Terry, Executive councillor for Public Protection, Waste and Transport, says: "Our plans for Kent Elms are just one part of a package of on-going junction improvements along the A127 designed to keep traffic flowing, improve crossings and keep the economy growing.
"Having finished the improvements to the Tesco roundabout, we can now concentrate on the Kent Elms junction which will help to increase capacity ahead of the creation of around 7,000 new jobs expected to be created by the new airport business park in the near future.
"Whilst technically there is no requirement to provide a new footbridge and there are many similar junctions that operate without one, we have listened to feedback from local schools, businesses and local residents and feel that it is appropriate to include plans for a new footbridge in our preferred option for consultation.
"The council has a track record of delivering major infrastructure improvements and I am confident we will do the same at Kent Elms, before we turn our attention to The Bell junction."
The majority of the funding (£4.3m) is set to come from Department for Transport's Local Growth Fund, with final approval of the business case expected in June 2016.