Consultation Starts On New M11 Junction In Harlow
11 May 2016, 10:52 | Updated: 11 May 2016, 10:58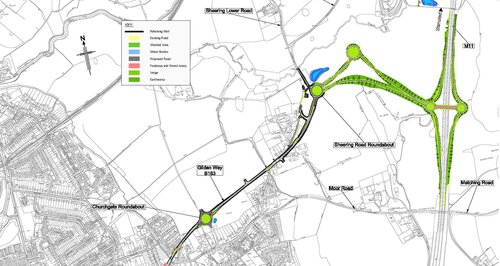 A consultation has started on plans for a new junction on the M11 at Harlow.
Essex County Council, which says the proposals would also see Gilden Way upgraded, will improve congestion and access to Harlow, as well as unlock the town's potential.
Cllr Rodney Bass, Essex County Council Cabinet Member for Infrastructure, said: "Harlow is severely limited by the lack of road capacity and connectivity, restricting growth that is essential to provide the platform for regenerating the area.
"To make the most of the town's opportunities we need to make improvements and investment in roads and infrastructure.
"This is essential to provide homes and jobs for today's young adults, our children and future generations.
"It is a big change, but it is necessary, and will benefit everybody in years to come. Planned strategic improvements are necessary to support this economic growth.
"By acting now, we can ensure that the area continues to prosper and provide opportunities for years to come."
The County Council says highways engineers have spent four years investigating options to improve Harlow's road network and concluded a new junction - Junction 7a - is the best solution.
The designs have been unveiled today at Harlow Civic Centre and residents can have their say on them until Wednesday, 6 July.
A series of public exhibitions will take place along the Gilden Way /Sheering Road route and also in the town centre library during June where the information on the website will be displayed.