Costa Opens Europe's Biggest Roastery In Basildon
13 March 2017, 11:20 | Updated: 13 March 2017, 11:22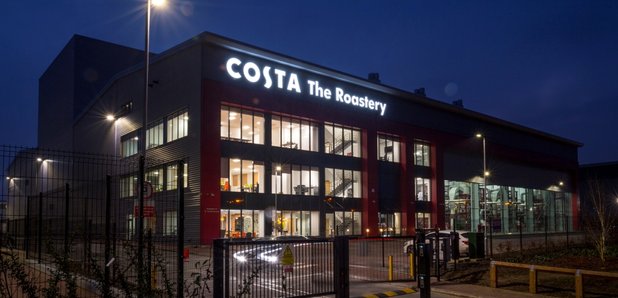 Costa has turned on its new £38m roastery in Basildon today, signalling a major milestone in the business' expansion to serve customers globally.
The new facility has more than quadrupled Costa's roasting capacity from 11,000 tonnes of coffee per annum to 45,000 tonnes per annum, providing the platform for its national and global growth plans.
The new roastery is a response to rapid growth n the UK and internationally demand and will provide the infrastructure for sustained global expansion.
Construction started in November 2015 on a specially chosen site close to Tilbury Docks where its raw coffee beans are imported. Here's a glimpse of Paradise Street, as the new building has been called.
The new facility is Europe's biggest coffee roastery and covers 85,690 sq ft – or the equivalent of over 30 tennis courts – and will enable Costa to produce coffee for 2.1 billion cups of coffee per year. It is expected to operate for the next 20-30 years.
Dominic Paul, Managing Director of Costa, said: "Costa is growing rapidly as a global business and our new roastery will provide the platform for sustained international expansion as we continue inspiring the world to love great coffee. Turning on our new roasting capacity is a landmark for the business. It's a statement of our ambition to grow and our passion for great coffee.
"Roasting here in Basildon keeps the UK at the centre of our growing global brand and enables us to build on everything we have learned from more than four decades of roasting in Lambeth. Today is about quality, capacity, investing in the future and being true to our heritage – it's about embracing our traditions whilst continuing to innovate and drive global growth."
The new roastery also includes a new coffee academy to train 3,000 baristi per year, putting investment in people alongside investment in great coffee. Expert barista service is central to the Costa brand and customer experience.
Paradise Street will also be one of the most sustainable industrial buildings in the world. The frame of the building is zero energy and the site is to operate on a zero waste-to-landfill basis.