Counselling Available For Bishop's Stortford College Fire Students
30 September 2015, 07:25 | Updated: 30 September 2015, 07:27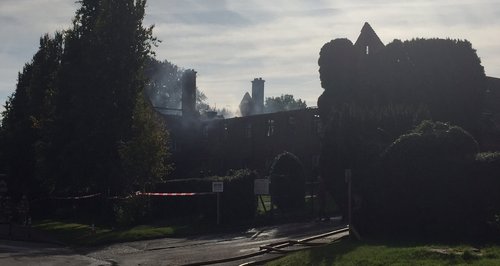 Special counselling sessions are being put on to help support students affected by the huge fire at Bishop's Stortford College.
23 male pupils had to be evacuated from the Robert Pearce boarding house in the early hours of yesterday as flames ripped through the building, leading to its roof to collapse.

Jeremy Gladwin, the Headteacher of the college, said: "I can't imagine it's something they'll ever forget, the scene was something I won't ever forget.

"I think that'll live with them for a while but teenagers are probably more resilient than adults and I think they bounce back very quickly, and they're living in an extremely supportive community.

"My priority is to look after those children. We've got teams together looking after them, trying to get their lives back together.

"I fear that'll be difficult in the next few days. At the moment I think they're in shock, tomorrow it might hit some of them a bit more."

Mr Gladwin also said he fears the building has been so badly damaged it may have to be knocked down.