David Cameron's Colchester Speech Promises 200,000 New Homes
2 March 2015, 15:46 | Updated: 2 March 2015, 16:12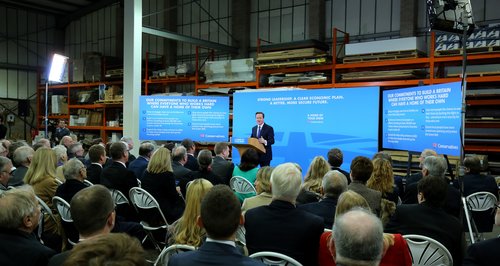 In a speech in Colchester this lunchtime, the Prime Minister announced his party's five point plan for housing in the UK.
Acknowledging that there's been a 'chronic under-building' of new home for decades - something for which all Governments have been to blame - the Prime Minister promised to turn that around.
From a warehouse in the headquarters of Think BDW - a property marketing company in Colchester - the Prime Minister talked about the importance of 'security.'
#HeartNews #PMSpeech says Conservatives don't offer utopia, but do want to offer the 'security' of your own home pic.twitter.com/9x5KXz1R9b

— Essex News (@HeartEssexNews) March 2, 2015
He said that everyone has the right to security, by owning their own house.
"Our goal, is a Britain where everyone who works hard, can have a home of their own."
He said the Conservatives would double the number of new homes being built for first-time buyers under the age of 40, to 200,000.
They'll do that by releasing cheaper, commercial brownfield land for house-building, which isn't usually used for such things and can be bought more cheaply.
Those properties would then be exempt from most of the taxes put on new homes, such as the social housing requirement - allowing a 20% discount for buyers.
Prices would also be capped at £250,000 outside London or £450,000 in the capital.
David Cameron said that the last year had seen 240,000 planning permission grants, and work start on almost 140,000 new homes, compared with 120,000 in 2013 and 100,000 in 2012.
``If we continue on this current trajectory then we will be building 200,000 homes a year not by 2020, as Labour hope to achieve, but by 2017."
Meanwhile Ed Milliband says Labour is committed to increasing the number of new homes being built each year to 200,000 by 2020 by threatening to take land from developers who fail to use it, doing more public sector building and building a new generation of garden cities.
He also proposes action to protect tenants including three-year contracts with rent-rise ceilings and a ban on excessive letting fees.