Decisive Step Towards Hospital Merger
22 March 2018, 16:09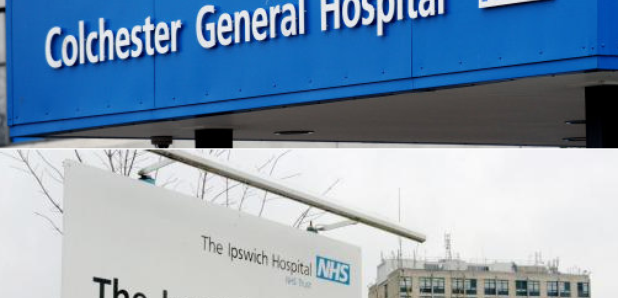 The merger of Colchester and Ipswich hospitals, forming a new NHS trust, will benefit patients and staff by reducing the stress of a system where services and processes are not joined up.
That's according to plans published today that include a commitment to stop the things that waste valuable time for patients, families and staff.

The ambitious vision, in which better scheduling and planning, supported by technology, is used to make services "just work" is set out in the full business case for the merger of the two hospitals.

The boards currently running the two hospitals will each make a final decision about whether to approve the plan for merger at a meeting held in public on Thursday 29 March.

If both trusts agree, then the case will then be sent to national NHS teams with a final decision being made by the Secretary of State for Health and Social Care, Jeremy Hunt MP.

The merger could take place as early as July of this year, creating the biggest NHS trust in East Anglia which will employ nearly 10,000 staff to look after more than 750,000 residents. The organisation will be called East Suffolk and North Essex NHS Foundation Trust and will manage community services in east Suffolk as well as Colchester and Ipswich hospitals.

Nick Hulme, chief executive of both trusts said: "This is a very significant moment for the people who use and work in the NHS in east Suffolk and north Essex. It is genuinely a once in a lifetime opportunity to grasp the opportunities that a merger brings and do things differently.

"We are promising to shift our focus onto the way we value time in healthcare. The unnecessary stress that we add to those who are already burdened by ill health is simply unacceptable. Delays in treatment, long waits sitting around in outpatient clinics and patients unable to plan their lives because of our poor organisation will become a thing of the past as we deliver the vision we have set out.

"Our other core aims are to attract and retain the best staff and provide the latest treatments locally. Joining together will help us do this. As the largest NHS trust in the region, we will have the scale to save, strengthen and even grow some services. This won't happen if we carry on as two medium-sized separate organisations."

Conversations with patients, the public and staff have continued since the plans for merger were first put forward at the beginning of 2017. The main concern raised has been whether patients would have to travel further because of the merger.

Responding to these concerns, Dr Barbara Buckley, medical director for both trusts said: "We know that transport, especially public transport, is already a concern in day to day lives, regardless of hospital visits. This merger is not based on any plans to move services from one hospital to the other. In the future, our doctors may want to change some services to improve them, but we would consult the public fully on any such proposals.

"This merger will benefit our patients in a number of important ways. It will help us to raise standards by taking the best ideas we have and sharing them across all of our services. We will be able to offer the latest treatments locally as a centre big enough to provide more specialised work. Many of the best clinical staff are attracted to larger trusts that have excellent education and research and are able to provide more specialised services.

"As a doctor, I'm hugely excited about the opportunities ahead of us. We'll be the biggest in the region, but more importantly we want to be the best."