Dog Found 'Starving And Collapsed' In Canvey
8 April 2015, 10:53 | Updated: 8 April 2015, 10:54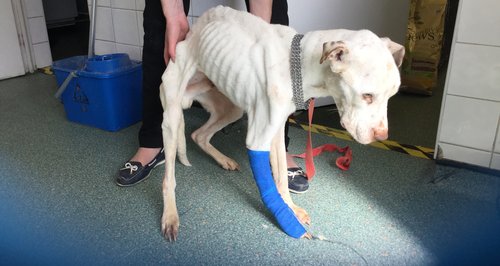 The RSPCA want to know what happened to a dog who's been found starving and abandoned in Canvey Island.
The young male staffie cross, named Wispa, was found in the alley between First Avenue and Edith Close on Thursday.
He was wearing a collar and lead - but hadn't been microchipped.
RSPCA officers want to know how he got into that state.
He was taken to a vet for emergency treatment and is slowly recovering.
RSPCA inspector Caroline Richardson: "I am amazed Wispa was still alive, he was so thin and in such an awful state. You could see all his ribs very clearly.
"We think he probably was just abandoned somewhere and was walking and straying until he just collapsed.
"He could not even get to his elbows to stand when he was brought in, but he is eating and drinking well and has already made such great progress over the weekend. He can sit up and hold his head now, which he couldn't before. And yesterday he even had a short walk into the garden - which is amazing progress and more than we at first hoped for.
"The staff at the vets where he is being kept called him Wispa after the chocolate because it was Easter, and because he has such a quiet and gentle nature despite the horrible hand he has been dealt.
"We would really like to hear from anyone who knows anything at all about how he came to be dumped so callously in such a horrible state, on 0300 123 8018."