Dozens Of Firefighters At Basildon Warehouse Fire
20 August 2017, 06:09 | Updated: 20 August 2017, 06:11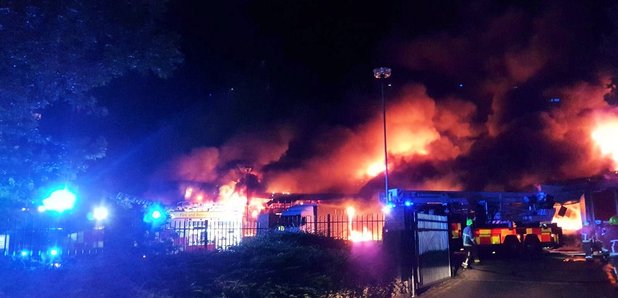 Around 100 firefighters have been tackling a blaze at a packaging warehouse.
The building on Festival Way in Basildon was "completely alight", with the flames also affecting a neighbouring industrial unit.
Fifteen fire engines were at the scene at the height of the fire along with multiple specialist appliances after the call came in shortly after 00:20 (Sunday, August 20).
Social media users reported seeing huge clouds of smoke coming from the fire, near Festival Leisure Park.
At 4am The officer in charge, Neil Fenwick, said: "When we first arrived, firefighters immediately requested extra fire engines to help deal with this rapidlly growing fire. The warehouse, which we believe is used for packaging and distribution, contained a large amount of stock and the fire took hold very quickly.
"Firefighters have done an absolutely brilliant job here this morning. They spotted the fire had started to spread to the large warehouse next door and managed to extinguish the fire very quickly and stopped the fire spreading. Fire crews had the fire surrounded and under control very quickly. It is thanks to their hard work that the fire has been contained to the one warehouse".
"Firefighters will remain at the scene for some time extinguishing the fire and checking for hot spots."