Essex Farmer's Concern Over Foot And Mouth
19 February 2016, 08:09 | Updated: 19 February 2016, 08:21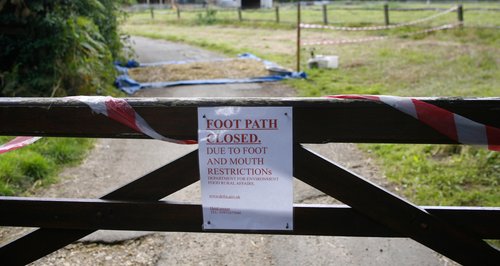 A farmer from Essex has told Heart he is concerned the country might not be able to cope with another Foot and Mouth outbreak.
It is exactly 15 years since the disease was first detected at Cheale Meats abatoir near Brentwood.

The outbreak cost the country billions of pounds, saw six million animals slaughtered, and led to thousands of people losing their jobs.

Dr Ian Frood runs a farm just five miles from where the disease was first detected.

He said: "We would worry that the state vetinary service wouldn't have the resources today because of the cutbacks in the vetinary service and so on.

"They do have plans in place and they do rehearse these plans so we hope they would be up to it, but one always has that fear".

He added the original outbreak devastated the lives of many farmers: "It broke a lot of farmers, I mean mentally broke them because they become so attached to animals.

"If you're producing them for a purpose, to produce meat, that's one thing. But to see the sheer waste of burning these animals, it's devastating for the farmers involved".

The Department for the Environment, Food and Rural Affairs said: "The risk of Foot and Mouth Disease arriving in the UK is low but ever present. We monitor disease outbreaks and incidence around the world assessing risk for the UK, regularly update and test our contingency plans and have published policies for dealing with outbreaks.

"We work closely with animal keepers, vets and industry whose experience and knowledge is invaluable in developing our response. Vigilance and prompt reporting of possible disease by animal keepers and their vets remains vital in early detection of disease and preventing spread.

"Animal keepers can help prevent the introduction or spread of exotic disease by maintaining good biosecurity on their premises at all times."