Essex Firefighters Sent To Nepal After Earthquake
27 April 2015, 06:32 | Updated: 27 April 2015, 10:33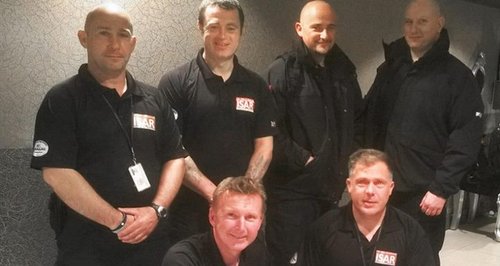 Six firefighters and a search and rescue dog from Essex's fire service are being flown out to Nepal to help after the earthquake there.
They will be part of a team of 67 search and rescue and medical experts from around the world to be sent there to help and look for survivors.

The Essex team are travelling as part of the UK International Search and Rescue team (UKISAR) landed this morning.

The firefighters from Essex who specialise in 'search and rescue' have been deployed from their USAR (Urban Search and Rescue) base in Lexden, near Colchester.
They are: back row – USAR Technician Martin Stoker, Watch Manager Tim Hersey, USAR Technician Greg Kench, Watch Manager Nick Manning; front row – USAR Technician and Dog Handler John Ball, Darcy the rescue dog and USAR Technician Mark Sladden.

The service say the Essex team have a great deal of experience and in the past have been sent to Hatti, Sumatra and New Zealand following earthquakes.

The UK team have taken more than 11 tonnes of rescue equipment including torches, axes, rope, search cameras, stretchers and tents.