Essex Man Jailed For Stalking Ex
3 August 2017, 17:25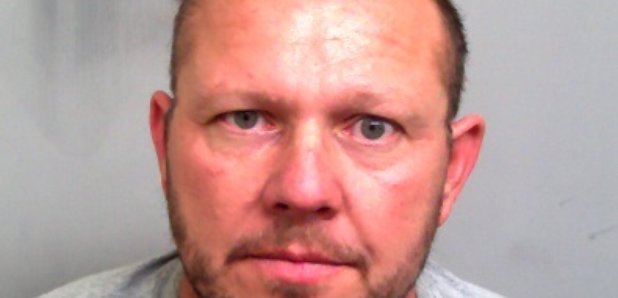 A man from Great Tey has been sentenced to four years in prison for stalking his ex-girlfriend and her new partner and possessing a stun gun disguised as a mobile phone.
Anthony Webb, of Holliland Croft, was given two years for one count of stalking by causing serious alarm and distress and two years for possession of a firearm disguised as another object, to run consecutively, at Ipswich Crown Court on Monday, July 31.
Webb, 44, was also sentenced for 12 months for a second count of stalking by causing serious alarm and distress, to run concurrently, and was given a five-year restraining order. He was found guilty following a seven day trial, which concluded at Ipswich Crown Court on Tuesday, April 11.
He met Denise Bolt in August 2009 but after she ended their relationship in January 2015, he subjected her to months of harassment and distress. This included installing CCTV in the home they shared to monitor her movements and take more than 120 images of her without consent.
Webb also put trackers on her and her new partner's cars without their knowledge and posted images of her on websites without her approval.
He was arrested on Sunday, April 30, and police found a tracker device and receipt in his vehicle. While searching his home they found a stun-gun disguised as a mobile phone, which has since been destroyed.
A second man, Wayne Humphrey, 46, of Holliland Croft, Great Tey, was arrested after he offered the victim a five-figure sum of cash to drop the case against Webb.
Humphrey was given a six month sentence, suspended for 12 months, after being found guilty to committing an act with intent to pervert the course of justice at Ipswich Crown Court on Thursday, April 20.
Investigating officer Dc Michelle Mauger said: "Webb tried controlling the movements of his victim despite the fact that she had ended their relationship.
"He installed CCTV in her home without consent and then used the device to check on her and take photographs without her approval. Webb went to extreme lengths to monitor and stalk her, including putting a tracker on her and her new partner's cars.
"Denise Bolt has shown an enormous amount of bravery by coming forward to police, supporting the investigation and speaking openly in court about her terrifying ordeal. I hope she can now get comfort in the fact that Webb has been locked in a prison cell."
In her witness statement, Denise Bolt said: "I was always waiting for what he was going to do next and he made me feel vulnerable, even in my own home.
"As a result of my ordeal, I became ill and had to go to hospital a number of times and I have received private counselling.
"I found the whole situation embarrassing, stressful and terrifying. I'm now worried that I'm being followed, I sleep with music on because I can't bear the silence and I have reoccurring nightmares.
"I'm proud that I showed the bravery and courage to bring him to justice and I would like to thank Essex Police, the courts and my family and friends for all their support."
We will thoroughly and sensitively investigate any reports of domestic abuse and stalking. We urge anyone who is affected or knows someone who is to call 999 in an emergency or call our non-emergency number on 101. You can also give details anonymously to Crimestoppers or 0800 555 111.
You can also contact the National Stalking Helpline, which is run by the Suzy Lamplugh Trust, on 0808 802 0300. For more information, visit www.suzylamplugh.org