Essex Man Labelled 'Sexist' After Posting Job Ad
30 August 2018, 17:06 | Updated: 30 August 2018, 17:22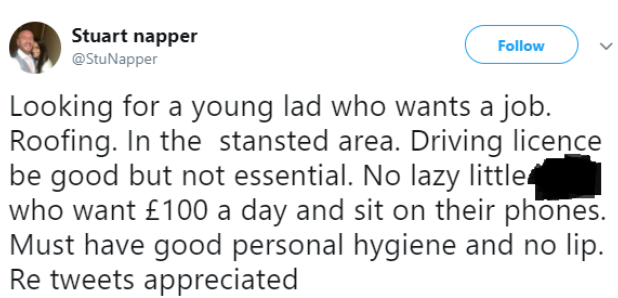 A man from Essex is being criticised on twitter, by people who say a job advert he's posted on the site is 'SEXIST'.
Stuart Napper tweeted saying he was looking for a "young lad" to take up a job as a roofer in the Stansted area (see pic).
But some people are annoyed that he said "lad", assuming it's a male only role.
He told Heart "It's just a bit crazy really... the responses... you know 95, 97% have all been positive and you just get the odd few that seem to take offence to anything and everything. It's like they're sat there looking for something to take offence to.
"I didn't even consider a woman - not because I wouldn't consider one... but I didn't even think about saying 'woman' because I've never seen a woman roofer.
"There's a lot a lot of heavy lifting... there's no point in me employing a woman who can't lift certain things because of the obvious strength issues. I'm up on a roof and could you just bring that up for me and they so oh no I can't lift it - then I've got to go down the ladder and get it. It's a complete waste of time them being there if they can't lift everything I need lifted."