Essex PC and Police Dog Retire Together
20 October 2017, 07:36 | Updated: 20 October 2017, 07:39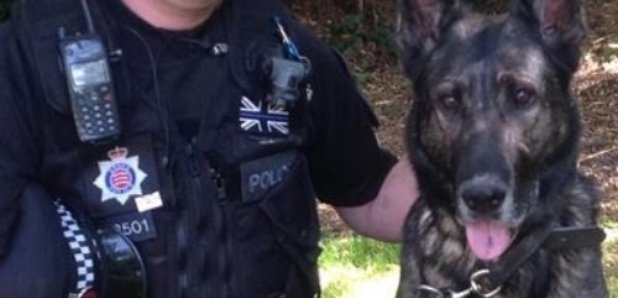 A dog handler and his canine partner have carried out their last paw patrol this week, as they retired together.
Pc Mick Finch joined Essex Police 27 years ago and police dog Cody has been his partner in crimefighting for the last six years.
Together they have been at the paw front of several high profile incidents and received numerous commendations.
Cody received an accolade after tracking eight thieves who stole watches and jewellery worth nearly £2million from a jewellery shop at Lakeside in April 2014. As the suspects fled on foot, they set fire to a number of road blocks made from tyres in an apparent attempt to distract or impede the police response. A parked police car was also set on fire with a petrol bomb.
But they were foiled when they were tracked by Mick and Cody, who followed their trail up an embankment and along the railway to South Ockendon, locating items discarded on the way, allowing colleagues to intercept and detain them. All eight men were arrested and later jailed for seven years each after pleading guilty to aggravated burglary.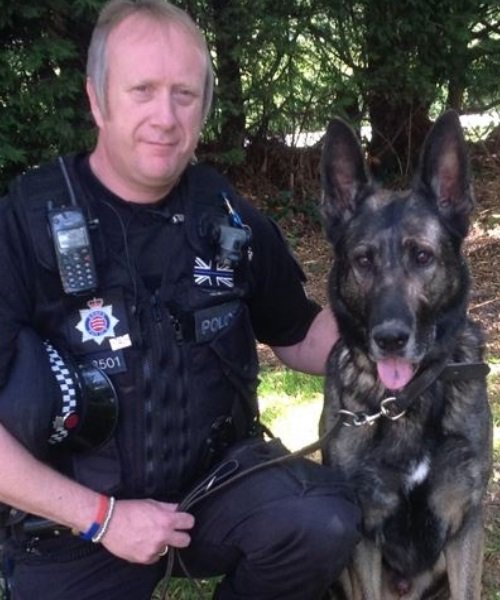 Cody's second commendation was for his role in a cross-border operation to find those responsible for the thefts of cash machines across several counties. These included the theft of two machines in Harlow and another in Roydon between August and September 2015.
The crime spree ended when during the early hours of October 19, 2015, a group of men used a stolen JCB and a truck to remove a cash machine from a village store in Lincolnshire. They fled the scene but the police were on alert and quickly on the scene. Officers including Mick pursued them until their vehicle crashed and the driver ran off. With Cody in pursuit, the man was detained and arrested. He and three other men were arrested and later jailed after admitted admitting conspiracy to burgle.
Mick, 49, started his career in August 1990 at Laindon police station, before moving to Basildon and later the force support unit and firearms. He had only been a police officer for four days and was on his first deployment – to an armed robbery - when he was held at gunpoint by the suspect. After a tussle, he broke free and colleagues arrested the robber, who was later jailed.
Mick was also involved in the multi-agency emergency response to Britain's longest aircraft hijack. An Ariana Afghan Airlines Boeing 727 with 168 people on board landed at Stansted Airport on February 7, 2000 after being taken over by hijackers during an internal flight in Afghanistan. The incident ended peacefully four days later.
Mick said: "I was part of the firearms team whose role was to respond to any incident that occurred on or around the plane. It was early hours of the morning and I had the job of driving the armoured vehicle with the rest of the firearms team in the back. Suddenly we saw movement from the rear steps and a steward was pushed from the plane. He was unconscious and tied up. We had to move fast, with only night vision equipment to see. I drove the team into position and between us we got the terrified man into our vehicle. Shortly afterwards, the flight crew escaped and again we had to respond in a similar way, all the time aware that Special Forces, who we worked closely with, were waiting to respond if the situation developed.''
After such eventual careers, Mick and Cody deserve a well-earned rest. But they will not be going their separate ways, as Cody will be joining Mick and has already made himself at home as part of the Finch family.