Essex Police Dog Looking For Loving Home
21 December 2018, 14:37 | Updated: 21 December 2018, 14:40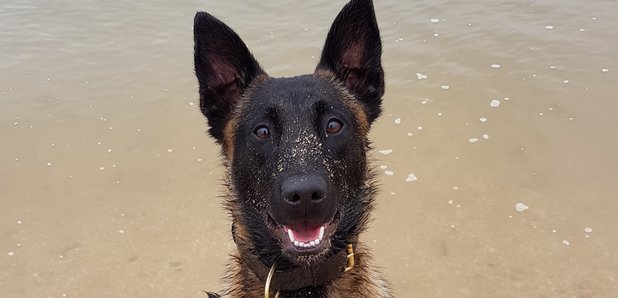 Could you rehome a retired police dog?
That's what Essex Police are asking us today as they're on the lookout for a new home for one of their police dogs who sadly had her career cut short after she was hit by a car.
Police Dog Baloo, a two-year-old Belgian Malinois who has served with the force since March, has been retired from duty after sustaining life-changing injuries.
Baloo and her handler, PC Ross Ashcroft, were deployed to a theft of a motor vehicle incident in October where Baloo was sadly struck by a vehicle after a number of cars made off from the scene. Baloo was left with a broken pelvis and a badly broken leg which required emergency surgery. An investigation is ongoing.
Baloo had to have one of her front legs amputated and will no longer be able to continue her career as a police dog. But she has recovered well from her injuries and rehabilitation is ongoing with Ross.
Due to the nature of Ross' role, he will be unable to keep Baloo and with a heavy heart, he is looking for a loving home for Baloo to enjoy a well-earned rest after her service with Essex Police.
Baloo is a playful pup who loves nothing more than a cuddle. She's also great with children and other dogs.
If you think you can provide a loving home for Baloo, please get in touch with Sgt Edhouse by email: 42002664@essex.pnn.police.uk
Ross said: "She has been a brilliant dog both at work and at home. As confident as she was at work, she was an absolute softie when taken out of work who wanted nothing more than attention and cuddles. She was a very loyal protective dog and loved life as a police dog."
While Baloo's police career has been short, she's made a big difference to the residents of Essex, helping to bring justice to those attempting to escape and to find missing people in their hour of need.
She's followed her nose to sniff out two violent suspects trying to hide after they attacked a woman with a weapon. She's tracked suspects for considerable distances and found them hiding under cars and in bushes and the clever canine has sniffed her way to find discarded weapons including large knives.