Essex Police Officer Feels Let Down By Courts
26 September 2018, 17:07 | Updated: 26 September 2018, 17:10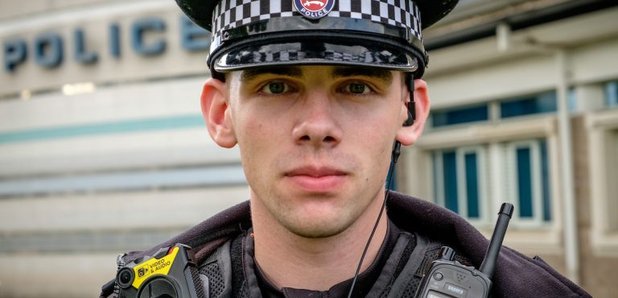 An Essex Police Officer who had blood spat in his face during a 'disgusting' assault as he made an arrest has hit out at the leniency the courts showed to his attacker.
PC Rhys Linge (pictured) says his assailant, who was ordered to pay him £50 in compensation, will 'feel like he's got away with it' and that he and his colleagues are feeling increasingly let down by the courts.

He's had to await hospital tests to see if the incident has left him infected with any infectious disease and he's been taking preventative medicines since the assault occurred.

PC Linge said "It was disgusting. It's one of the worst things that a human being can do to another human, especially the fact that it was in the face as well, and that it was full of blood.

"If a magistrate was spat at I'm sure it would be a different outcome.

"It's just wrong... all the work we put in to doing what we do. It's the fact that this man is out again and the fact that the money's such a low amount."

PC Linge had been called out to assist colleagues who were dealing with reports of a man smashing up a property.

The officers managed to get the man under control, and administered first aid to him, as he had sustained a face injury which was bleeding heavily.

As he was read the details of why he was being arrested he screamed out and sprayed some blood into the air.

PC Linge, who was 20 at the time of the attack, then asked him not to spit as blood was continuing to drip into his mouth from a nose injury.

The suspect then began to struggle and as he was being led away from the police car he spat out at PC Linge showering his face, glasses and radio in bloody saliva.

"I went back to the station and my Inspector became aware of the incident and that spit and blood had gone into my mouth and over my face.

"I had to go up to hospital and have a blood test. I've only just got the results back and they look like they are all clear. I'll send them up to occupational health, but the wait for the results which has been nearly two weeks has been quite traumatic, waiting to see whether I've got what he might have got.

"There is no deterrent, and obviously members of the public now are going to view that as well" he added.

"If people are doing this to police officers then they should be going away for a period of time."

Essex Police Federation Chairman Steve Taylor was furious with the court's sentencing, especially as it comes a week after the Emergency Services Workers (Offences) Bill, aimed at providing tougher sentences for assaults, gained Royal Assent.

"For this individual to come before the bench, to plead guilty for this assault and to be on licence for the offence of having assaulted a police officer in the past and not to receive a custodial sentence, not to receive something far more meaningful than having to pay £50 compensation, which is a paltry figure and probably won't be received by the officer anyway – is incredibly poor," he said.

"Assaults like this resonate across the force, colleagues in PC Linge's position often say they can't pick up their kids or have a normal family life while they wait to see if they have caught anything.

"The courts have let us down. Will this individual or others think twice before lashing out, before assaulting a police officer?

"The courts had an option to send a clear message, but they chose not to, and they have let us down. I'm left with zero confidence that this individual has learnt any sort of lesson that this behaviour us unacceptable" he added.

"The powers that be decided to leave spitting at emergency services workers out of the Bill, and we are working hard to ensure individuals like this can feel the full strength of the law to help send out the right deterrent."

The man who spat at PC Linge has a previous conviction for assaulting an officer and alongside the £50 compensation order for the assault on a constable he pleaded guilty to criminal damage at Colchester Magistrates Court.

For that he was given a 12 Month Community Order and a Rehabilitation activity requirement for 40 days and Programme requirement for 29 days.