Final Day For A120 Future Consultation
14 March 2017, 08:38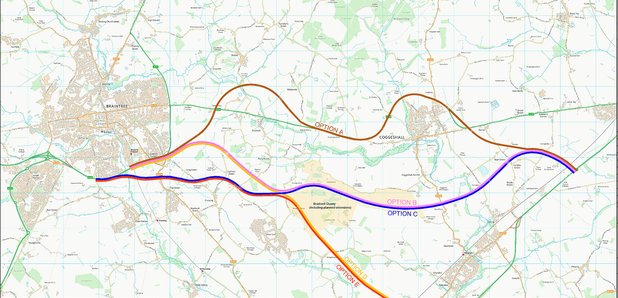 There's just a day left to have your say on the future of the A120 between Braintree and A12.
Residents and businesses across Essex and East Anglia are being urged to make their voice heard as part of the eight-week consultation on five alternatives for a new dual carriageway link for the A120 between Braintree and the A12.
Sharing your views could not be easier – just take a few minutes to visit www.a120essex.co.uk to fill in our online consultation form.
The call comes as Stansted Airport added their name to the long-list of businesses in Essex calling for improvements to the route in an online video.
Cllr Kevin Bentley, Essex County Council Deputy Leader and Cabinet Member for Economic Growth, Infrastructure and Partnerships, said: "This is a once-in-a-lifetime opportunity for Essex residents to improve this road and give a huge boost to the county's businesses.

"It is essential we have as many responses as possible to ensure whatever we do is in the best interest of everyone.
"Hundreds of people have already attended our engagement events across Essex but it is vital everyone makes their voices heard.
"It only takes a few minutes so please take the time to help shape the future of travel in the county for decades to come."

Cllr Rodney L Bass, Chairman of the A120 Board, said: "We cannot afford to get this wrong and that is why I would urge anyone who uses this road to make their views known.
"Upgrades to this road are long overdue and we are keen to get views from residents and businesses on how best to do this."
3,143 residents attended 11 public information events run over the last few weeks with more than 1,150 responses already received so far.
Make your views known by visiting www.a120essex.co.uk.