Firefighters Rescue Pig In Hockley
1 August 2016, 06:17 | Updated: 1 August 2016, 06:20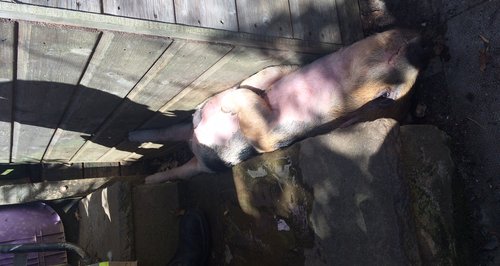 Firefighters have rescued a pig after it got stuck in Hockley.
It had become wedged between a shed and a concrete post at a property on Belchamps Way yesterday morning (Sunday, 31 July).
A crew freed it using cutting equipment and a air bags.
Sub Officer Gary Shinn said: "We believe the pig was on a concrete step and went for a scratch and ended up falling over and getting wedged upside down.
"Olive was really stuck, it wasn't a simple of case of pulling her free.
"We had to use cutting equipment to free her and although distressed at first, she calmed down after a little stroke.
"The owner was very pleased to be reunited with Olive.
"We've been to a few animal rescues, but never a pig."
Picture: Essex County Fire and Rescue Service