Flooding Chaos In Essex
23 June 2016, 09:10 | Updated: 23 June 2016, 09:13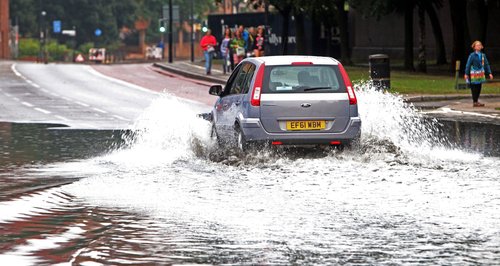 Flooding has caused travel chaos across Essex this morning after the county was hit with a night of heavy rain.
Essex's fire service said it has had more than 200 flood-related calls since midnight, with most incidents centred around Brentwood, Chelmsford and Ongar.
It has had a huge impact on the county's roads with large stretches of the A12 affected, as has the A127 at the Fortune of War roundabout, the A414 in Writtle and in Ongar, the Parkway in Chelmsford, and the A13 heading into London.
Many other local roads have also been hit with flooding and drivers are being urged to take extra care.
It has also had an impact on trains in Essex with Abellio Greater Anglia warning of disruption on services into London because of flooding at Manor Park.
Essex County Fire and Rescue Service said: "Just two feet of water is enough to float a car and six inches of water will reach the bottom of most passenger cars; this depth can cause loss of control or possible stalling as water is sucked into the exhaust or washes into the air intake.
"Motorists should never attempt to drive through water deeper than the centre of their wheels. If water gets into the car's air intake or into the electrics the car will stop leaving driver and passengers trapped.
"The water could also be hiding damaged road or missing manhole covers.
"Motorists should take particular care when crossing fords, these often become flooded and extremely dangerous with fast flowing water".
Several flood alerts and warnings have been issued and the Met Office has put a 'Yellow' weather warning in place for heavy rain.