People And Pets From Jaywick Arrive At Rest Centre
13 January 2017, 16:30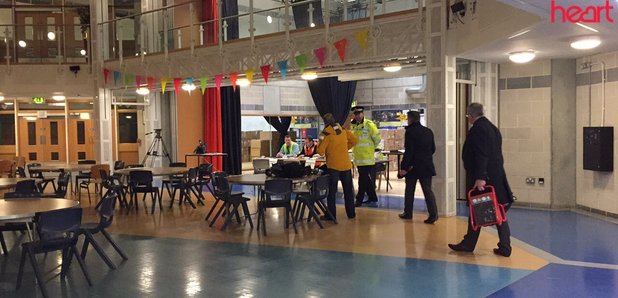 Evacuees escaping a predicted high tide and severe weather, which could cause mass flooding in a small Essex village, have begun arriving at a rest centre.
Set up by the district council in an educational centre in Tendring, Clacton, for the young, old and furry and four-legged, it can cater for more than 1,000 people who are leaving Jaywick.

Nigel Brown, from Tendring District Council, said that the rest centre was first set up on Thursday afternoon for those being evacuated by emergency services.

"The main issue at that time was going to be the lunchtime high tide... that turned out not to be an issue,'' he said.

"We now have an issue with the tide around 11pm tonight and that looks to be serious,'' he said.

"The aim is to get as many people in here today as we can. We had 17 people stay here overnight and so far we have registered at least 85 people.

"And we would expect another couple of hundred to come through by tonight."

Providing somewhere to sleep, along with food, hot drinks and even somewhere safe for pets, Mr Brown said so far the centre has taken in more than 30 dogs.

"There are a lot of dog owners in Jaywick, and they just won't come without them,'' he added.

Simon Scott moved to the coastal village 15 months ago, making this his first flood and evacuation. The 58-year-old was at the centre with his dog Charlie.

Mr Scott said: "I would not come here without him - I would have stayed at home, I would not have left my dog."

When quizzed on how accommodating the centre has been towards people's pets, he said he thinks its approach "is excellent".

Sisters Harriet Woods, 87, and Jean Williams, 79, had just returned from a holiday in Potters-on-sea on Friday morning, only to head straight to the rest centre.

Keeping up-to-date with the unfolding situation on the news before arriving home, Ms Williams said: "Obviously we are worried, but you can't do anything about it."

The pair, who are regular Friday bingo players, were happy to discover there would be a game at the centre later that evening, and were not phased at the prospect of sleeping in an armchair.

Ms Williams added: "For one night, it does not matter."

Asked about worries over looting, Barbara Parsons - who has lived in Jaywick for 30 years - said residents have "got to take the chance" of leaving their homes.

"All the bad things they say about Jaywick, it is not really true. The community is very good and people are very good to each other.