General Election 2017: Essex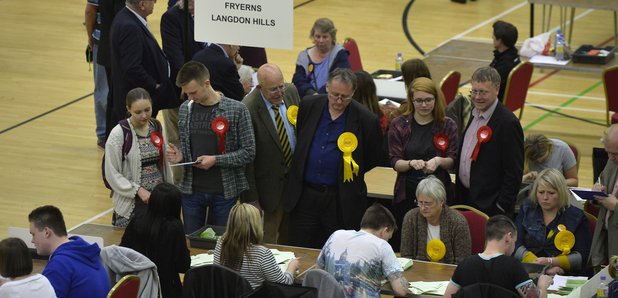 The Conservatives have retained all their Essex seats and gained Clacton.
Thurrock's MP Jackie Doyle-Price was re-elected with a slender majority of 345.
With results in for all Essex constituencies in the General Election, new Essex members elected are:
Kemi Badenoch (C, Saffron Walden)
Alex Burghart (C, Brentwood & Ongar)
Julia Dockerill (C, Hornchurch & Upminster)
Vicky Ford (C, Chelmsford)
Giles Watling (C, Clacton)
UKIP lost a large number of Essex votes - in Clacton, the party has gone from getting 19,642 votes in 2015 to 3,357 this time.
Here are the results from every Essex constituency:
Basildon and Billericay: Conservative hold (John Baron)
John Baron (C) 27,381 (60.96%, +8.28%)
Kayte Block (Lab) 13,981 (31.13%, +7.45%)
Tina Hughes (UKIP) 2,008 (4.47%, -15.37%)
Antonia Harrison (LD) 1,548 (3.45%, -0.36%)

C maj 13,400 (29.83%)
0.41% swing Lab to C
Electorate 69,149; Turnout 44,918 (64.96%, +2.11%)
Basildon South and Thurrock East: Conservative hold (Stephen Metcalfe)
Stephen Metcalfe (C) 26,811 (56.90%, +13.50%)
Byron Taylor (Lab) 15,321 (32.51%, +7.31%)
Peter Whittle (UKIP) 3,193 (6.78%, -19.76%)
Reetendra Banerji (LD) 732 (1.55%, -1.42%)
Sim Harman (Green) 680 (1.44%)
Paul Borg (BNP) 383 (0.81%)

C maj 11,490 (24.38%)
3.10% swing Lab to C
Electorate 73,541; Turnout 47,120 (64.07%, +1.80%)
Braintree: Conservative hold (James Cleverly)
James Cleverly (C) 32,873 (62.82%, +8.99%)
Malcolm Fincken (Lab) 14,451 (27.62%, +9.13%)
Peter Turner (LD) 2,251 (4.30%, -0.65%)
Richard Bingley (UKIP) 1,835 (3.51%, -15.31%)
Thomas Pashby (Green) 916 (1.75%, -1.36%)

C maj 18,422 (35.21%)
0.07% swing C to Lab
Electorate 75,316; Turnout 52,326 (69.48%, +1.12%)

Brentwood and Ongar: Conservative hold (Alex Burghart)
Alex Burghart (C) 34,811 (65.79%, +6.96%)
Gareth Barrett (Lab) 10,809 (20.43%, +7.92%)
Karen Chilvers (LD) 4,426 (8.37%, -0.45%)
Michael McGough (UKIP) 1,845 (3.49%, -13.32%)
Paul Jeater (Green) 915 (1.73%, -0.96%)
Louca Kousoulou (Ind) 104 (0.20%)

C maj 24,002 (45.36%)
0.48% swing C to Lab
Electorate 74,911; Turnout 52,910 (70.63%, -0.99%)

Castle Point: Conservative hold (Rebecca Harris)
Rebecca Harris (C) 30,076 (67.27%, +16.42%)
Joe Cooke (Lab) 11,204 (25.06%, +11.24%)
David Kurten (UKIP) 2,381 (5.33%, -25.87%)
Tom Holder (LD) 1,049 (2.35%, +0.58%)

C maj 18,872 (42.21%)
2.59% swing Lab to C
Electorate 69,470; Turnout 44,710 (64.36%, -2.31%)

Chelmsford: Conservative hold (Vicky Ford)
Vicky Ford (C) 30,525 (53.68%, +2.15%)
Chris Vince (Lab) 16,953 (29.82%, +12.20%)
Stephen Robinson (LD) 6,916 (12.16%, +0.28%)
Nigel Carter (UKIP) 1,645 (2.89%, -11.33%)
Hossain Reza (Green) 821 (1.44%, -2.07%)

C maj 13,572 (23.87%)
5.02% swing C to Lab
Electorate 81,045; Turnout 56,860 (70.16%, +1.67%)

Clacton: Conservative gain (Giles Watling)
Giles Watling (C) 27,031 (61.23%, +24.58%)
Tasha Osben (Lab) 11,203 (25.38%, +10.98%)
Paul Oakley (UKIP) 3,357 (7.60%, -36.83%)
David Grace (LD) 887 (2.01%, +0.17%)
Chris Southall (Green) 719 (1.63%, -1.05%)
Caroline Shearer (Ind) 449 (1.02%)
Robin Tilbrook (Eng Dem) 289 (0.65%)
Nick Martin (Ind) 210 (0.48%)

C maj 15,828 (35.85%)
30.70% swing UKIP to C
Electorate 69,263; Turnout 44,145 (63.74%, -0.39%)

Colchester: Conservative hold (Will Quince)
Will Quince (C) 24,565 (45.88%, +6.94%)
Tim Young (Lab) 18,888 (35.28%, +19.12%)
Sir Bob Russell (LD) 9,087 (16.97%, -10.49%)
Mark Goacher (Green) 828 (1.55%, -3.60%)
Robin Rennie (CPA) 177 (0.33%, +0.11%)

C maj 5,677 (10.60%)
6.09% swing C to Lab
Electorate 79,996; Turnout 53,545 (66.93%, +1.45%)

Epping Forest: Conservative hold (Eleanor Laing)
Eleanor Laing (C) 31,462 (61.96%, +7.19%)
Liam Preston (Lab) 13,219 (26.03%, +9.90%)
Jon Whitehouse (LD) 2,884 (5.68%, -1.31%)
Patrick O'Flynn (UKIP) 1,871 (3.68%, -14.65%)
Simon Heap (Green) 1,233 (2.43%, -1.18%)
Thomas Hall (Young) 110 (0.22%, +0.05%)

C maj 18,243 (35.93%)
1.35% swing C to Lab
Electorate 74,737; Turnout 50,779 (67.94%, +0.84%)

Harlow: Conservative hold (Robert Halfon)
Robert Halfon (C) 24,230 (54.03%, +5.16%)
Phil Waite (Lab) 17,199 (38.35%, +8.36%)
Mark Gough (UKIP) 1,787 (3.98%, -12.30%)
Geoffrey Seeff (LD) 970 (2.16%, +0.12%)
Hannah Clare (Green) 660 (1.47%, -0.68%)

C maj 7,031 (15.68%)
1.60% swing C to Lab
Electorate 67,697; Turnout 44,846 (66.25%, +1.16%)

Harwich and North Essex: Conservative hold (Bernard Jenkin)
Bernard Jenkin (C) 29,921 (58.51%, +7.46%)
Rosalind Scott (Lab) 15,565 (30.44%, +10.72%)
Dominic Graham (LD) 2,787 (5.45%, -1.93%)
Aaron Hammond (UKIP) 1,685 (3.29%, -14.18%)
Blake Roberts (Green) 1,042 (2.04%, -2.34%)
Stephen Todd (CPA) 141 (0.28%)

C maj 14,356 (28.07%)
1.63% swing C to Lab
Electorate 71,294; Turnout 51,141 (71.73%, +1.83%)

Hertford and Stortford: Conservative hold (Mark Prisk)
Mark Prisk (C) 36,184 (60.31%, +4.18%)
Katherine Chibah (Lab) 17,149 (28.59%, +10.67%)
Mark Argent (LD) 4,845 (8.08%, +0.28%)
David Woollcombe (Green) 1,814 (3.02%, -1.74%)

C maj 19,035 (31.73%)
3.25% swing C to Lab
Electorate 82,429; Turnout 59,992 (72.78%, +1.46%)

Maldon: Conservative hold (John Whittingdale)
John Whittingdale (C) 34,111 (67.95%, +7.35%)
Peter Edwards (Lab) 10,681 (21.28%, +9.43%)
Zoe O'Connell (LD) 2,181 (4.34%, -0.15%)
Jesse Pryke (UKIP) 1,899 (3.78%, -10.87%)
Steven Betteridge (Green) 1,073 (2.14%, -0.99%)
Richard Perry (BNP) 257 (0.51%)

C maj 23,430 (46.67%)
1.04% swing C to Lab
Electorate 66,960; Turnout 50,202 (74.97%, +5.80%)

Rayleigh and Wickford: Conservative hold (Mark Francois)
Mark Francois (C) 36,914 (66.72%, +12.07%)
Mark Daniels (Lab) 13,464 (24.34%, +11.74%)
Peter Smith (UKIP) 2,326 (4.20%, -18.08%)
Ron Tindall (LD) 1,557 (2.81%, -0.23%)
Paul Hill (Green) 1,062 (1.92%, -0.95%)

C maj 23,450 (42.39%)
0.16% swing Lab to C
Electorate 78,556; Turnout 55,323 (70.42%, +2.08%)

Rochford and Southend East: Conservative hold (James Duddridge)
James Duddridge (C) 23,013 (48.71%, +2.29%)
Ashley Dalton (Lab) 17,465 (36.96%, +12.28%)
Ron Woodley (Ind) 2,924 (6.19%)
Neil Hookway (UKIP) 1,777 (3.76%, -16.76%)
Peter Gwizdala (LD) 1,265 (2.68%, -0.67%)
Simon Cross (Green) 804 (1.70%, -3.33%)

C maj 5,548 (11.74%)
4.99% swing C to Lab
Electorate 73,501; Turnout 47,248 (64.28%, +3.66%)

Saffron Walden: Conservative hold (Kemi Badenoch)
Kemi Badenoch (C) 37,629 (61.78%, +4.58%)
Jane Berney (Lab) 12,663 (20.79%, +8.99%)
Mike Hibbs (LD) 8,528 (14.00%, +3.44%)
Lorna Howe (UKIP) 2,091 (3.43%, -10.35%)

C maj 24,966 (40.99%)
2.21% swing C to Lab
Electorate 83,690; Turnout 60,911 (72.78%, +1.38%)

Southend West: Conservative hold (David Amess)
Sir David Amess (C) 26,046 (55.19%, +5.37%)
Julian Ware-Lane (Lab) 16,046 (34.00%, +15.68%)
Lucy Salek (LD) 2,110 (4.47%, -4.81%)
John Stansfield (UKIP) 1,666 (3.53%, -14.00%)
Dominic Ellis (Green) 831 (1.76%, -2.92%)
Tino Callaghan (Southend) 305 (0.65%)
Jason Pilley (Ind) 187 (0.40%)

C maj 10,000 (21.19%)
5.16% swing C to Lab
Electorate 67,677; Turnout 47,191 (69.73%, +3.18%)

Thurrock: Conservative hold (Jackie Doyle-Price)
Jackie Doyle-Price (C) 19,880 (39.50%, +5.83%)
John Kent (Lab) 19,535 (38.82%, +6.22%)
Tim Aker (UKIP) 10,112 (20.09%, -11.62%)
Kevin McNamara (LD) 798 (1.59%, +0.29%)

C maj 345 (0.69%)
0.20% swing C to Lab
Electorate 78,153; Turnout 50,325 (64.39%, +0.50%)

Witham: Conservative hold (Priti Patel)
Priti Patel (C) 31,670 (64.32%, +6.81%)
Phil Barlow (Lab) 13,024 (26.45%, +10.62%)
Jo Hayes (LD) 2,715 (5.51%, -0.62%)
James Abbott (Green) 1,832 (3.72%, -0.60%)

C maj 18,646 (37.87%)
1.90% swing C to Lab
Electorate 69,137; Turnout 49,241 (71.22%, +0.92%)