GMB Union's Fears Over Bradwell Site
10 June 2015, 13:00 | Updated: 10 June 2015, 18:45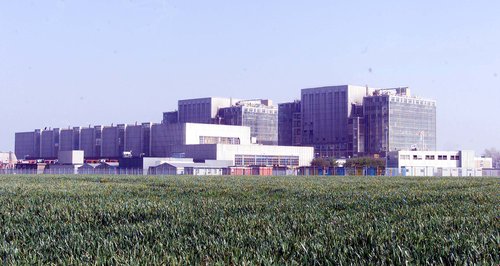 A leading union's written to the Government over jobs and safety fears for a new nuclear site in Bradwell Essex.
The Magnox power station in the area is currently being decommissioned.
Read the letter below.
To Secretary of State,
Department for Energy and Climate Change
Dear Minister

GMB, as a major union in the nuclear industry and in the engineering and engineering construction sectors, are writing to you to register our concern about linkages between the funding the new Hinkley Point C nuclear station and the technology to be used in a possible new nuclear station in Bradwell in Essex.
In particular we are concerned at the prospect of the Bradwell nuclear site being handed over lock, stock and barrel to the Chinese National Nuclear Corporation (CNNC) as part of the deal to fund Hinkley Point C. Our understanding is that handing over the Bradwell site to the CNNC for them to use their own nuclear technology is something that has been under consideration as they are linking this to them funding Hinkley Point C.

The idea that a Chinese state company will be given a site in the UK not far from London where they can use Chinese labour to construct a reactor to be made in China and using Chinese components would in our view constitute economic madness and raises serious safety issues.
We have got to this potentially dangerous linkage because we are relying on foreign state owned companies to fund the development of new nuclear stations having stood down our own state owned companies to do the job that the private sector is clearly not prepared to do.
GMB consider that funding of nuclear developments should always be kept totally separate from the regulation of the design and construction of new nuclear facilities and the transport and safeguarding of nuclear and radioactive materials.
It is the lack of progress on putting together the funding for Hinkley Point C that has brought us to this point. Due to this lack of progress we are seeing job losses at Hinkley Point C rather than seeing thousands of jobs created. The on-going delay and uncertainty is bad news for the UK, in terms of the supply of much needed low carbon electricity as well as jobs in construction industry and the manufacturing supply chain. These delays come on top of the widespread speculation that the project may be scrapped unless Chinese funding is agreed is doing nothing for investor confidence in the future viability of nuclear new build in the UK.

Given our long history in improving safety in the nuclear industry we were deeply concerned to read the comments of physicist He Zuoxiu, an eminent nuclear scientist in China. He Zuoxiu has publicly raised concerns about the safety standards of Chinese components in the nuclear industry. Indeed he has gone further in criticising the Chinese nuclear industry, and it is unusual for such an official to speak out in this way. It suggests that there are very serious issues in the nuclear industry, whilst at the same time China is looking to dominate nuclear new build in the UK.
Such a development raises serious concerns about national security. If the UK is in a position where we are so desperate for foreign investment in our energy infrastructure that we are prepared to completely surrender control of the design, manufacture and construction of a strategically vital nuclear reactor to a Chinese state company then the UK Government needs to pull back and reconsider how we fund new nuclear stations.

It is clear we desperately need investment in new energy infrastructure. What is fast becoming a crisis in funding for new nuclear but more generally in building generating capacity, tells us that we require an urgent debate on how we fund the building of new powers stations.

For too long successive governments have viewed electricity as another commodity, it's isn't because ultimately the government is the guarantor of last resort. This is not an ideological position but a simple statement of fact. New thinking on energy is urgently required and GMB would welcome the opportunity to participate in the debate on we meet the Nation's future energy needs. I would be very pleased to meet with you to discuss the concerns of our trade union.

It is hardly surprising that these developments give rise to concerns over the safety of the nuclear sector. Having been involved in the nuclear industry for many decades, safety has always been our top priority. Indeed our union has been at the centre if raising safety standards in the nuclear industry, which in turn raised public confidence in nuclear. GMB was the union that fought for the establishment of the nuclear workers compensation scheme which was a catalyst for change and improvements on safety standards.
We need to be clear that nuclear new build should not happen at any cost. GMB would caution that handing over a greater share of the manufacturing supply chain to Chinese companies, in exchange for funding, is fraught with risk for the long term interests of UK.

I would be grateful if you could advise me what discussions you have had with regulatory bodies in the UK over safety standards in Chinese nuclear industry and its associated supply chain. In particular I would like to know whether the Office for Nuclear Regulation believes He Zuoxiu's determinations on safety in the Chinese nuclear industry are valid. I would also like to know what assessments have been done on Chinese made nuclear components.
Given the profound safety issues that arise from this possible linkage GMB will be writing to the ONR and the following regulatory bodies raising our concerns: Environment Agency, Scottish Environment Protection Agency, Dept for Transport, Food Standards Agency, International Atomic Energy Agency (a UN body) and EURATOM (European Atomic Energy Committee).
I look forward to your response.
Gary Smith GMB National Secretary for Energy
A statement from the Department for Energy and Climate Change reads:
"Safety and security are of paramount importance, and any proposal to build a nuclear power station in the UK will be subject to the UK's thorough and transparent regulatory regime. Any future operators would need to ensure the site workforce for construction complies with UK employment law and regulations."