Grays Man Jailed For Ramming Police Motorcyclist
21 May 2015, 06:01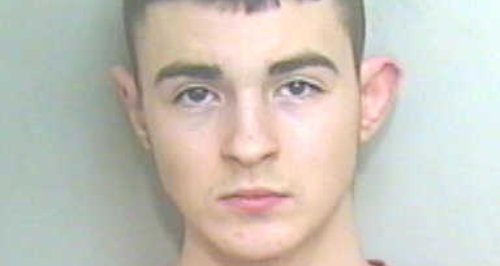 A man's been jailed for 6 years after admitting ramming a police motorcyclist - for trying to stop him speeding in a stolen car on the A13.
This dramatic video footage was shown at Southend Crown Court before 18-year-old Martin Galbraith from Boscombe Aveneue was sentenced.
PC Hills spotted the speeding BMW - being driven by Martin - travelling westbound on the A13 near Grays at about 2pm on Tuesday January 27
At times it accelerated to well over 100mph, and at some stages reached 130mph.
PC Hills tried to escort the car off the A13 - but the the BMW edged closer to the rear of the motorbike - before ramming the officer.
Video footage from roadside CCTV shows how the bike was pushed for about 35 yards before it crashed on the roundabout where the BMW was then hit by a van.
The BMW then reversed and drove off at speed into Ferry Lane, Rainham where it lost control on a roundabout and struck a wall.
Galbraith ran off into an industrial estate but was quickly caught when the police helicopter and a dog joined the search for him.
After the hearing Inspector Scott Egerton of the Essex Police Serious Collision Investigation Unit said: "Pc Hills is lucky to be alive. Galbraith clearly had no intention of stopping to answer questions about his speeding and not only rammed the back of the motorbike but also pushed it about 35 yards into the path of oncoming vehicles already on the roundabout.
"We believe that Galbraith then tried a second time to drive at Pc Hills as he was laying on the ground but he was saved from further injury because, luckily, another vehicle was in the way.
"As Galbraith sped away from the scene witnesses saw him laughing, but that soon stopped when he lost control on the next roundabout and crashed into a wall.
"This was clearly an appalling case of a criminal who was prepared to stop at nothing to avoid detection for having a stolen car.
"Excellent teamwork between Essex officers and colleagues in the Metropolitan Police resulted in Galbraith being quickly found and arrested. We would also like to thank the members of the public who stopped to help Pc Hills when he was on the ground.
"The sentence here today shows how police and the courts are determined to bring thieves and reckless drivers to justice and make roads safer for law-abiding members of the public.
"Galbraith is a dangerous individual and the community is safer now that he is behind bars."