Hannah Witheridge "Unlawfully Killed", Coroner Rules
8 February 2016, 10:32 | Updated: 26 August 2016, 18:15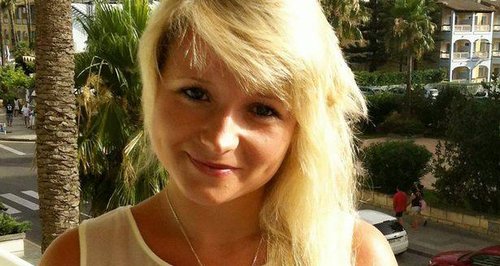 A coroner has ruled the death of University of Essex student, Hannah Witheridge, in Thailand was an "unlawful killing" by "severe head injuries".
23 year-old Hannah, and fellow British backpacker David Miller, were found dead on a beach on the Island of Koh Toa in September 2014.

They had both suffered head injuries, while Hannah had also been sexually assaulted.

Two Burmese men initially confessed to killing the pair but later retracted their statements claiming they had been tortured into making them.

They were both found guilty of murder on Christmas Eve last year and given the death penalty.

An inquest into Hannah's death was held in Norwich this morning.
The hearing was read a statement from Hannah's mum Susan Witheridge taken in November 2014:
"Hannah went to the University of East Anglia.
"After a year Hannah decided she wanted to do her Master's Degree in Speech and Language Therapy. She went to the University of Essex in Colchester and had completed her first year.
"Even while Hannah was away she would always be in touch via text message, What's app, phone, skype or face-time.
"Hannah planned her trip to Thailand very quickly after she came back from Spain in June this year [2014]. She and her fellow students all had a four week break from their studies at the end of the usual school holidays and started speaking of going on a three week travelling trip. They mentioned Europe, Australia and then at the last minute Thailand.
"None of the family was happy with her going there from the start. We each tried to talk her out of it but her mind was made up and suddenly one evening she burst into the lounge at home and said she'd booked the tickets and posted to Facebook she was off.
"Hannah and her sister came back from the V Festival on the 18th August and Hannah had a week to pack and prepare for her flight to Bangkok on the 26th August.
"I took Hannah to the airport the night before her flight where she stayed overnight with a friend. She was in touch every day, sending pictures and messages of her adventures.
"She completed a cooking course in Bangkok and had bought a Thai cook book to cook us all a meal on her return. She had been into the jungle and stayed with a tribe there. She had trekked through the jungle and bathed elephants. I was out of my mind with worry while she was doing these things but when she reached Ko Tao I relaxed knowing she was on a small island sunbathing and relaxing for her last few days before coming home. I had booked her a taxi as a surprise at the airport to get her home quickly and safely only a few days before we learnt of her murder.
"Monday 15th September 2014, a date which changed our lives forever. Local police had gone to see Tony at his address and told him of Hannah's murder. He burst into my kitchen and collapsed on the floor crying and sobbing, he could barely speak. There are no words to explain what happened next or how any of us felt. People say it's like a bad dream but my dreams have never been like this. We learnt only that Hannah was murdered on the beach in Ko Tao with another British boy called David Miller. We had never heard his name and Hannah had not spoken of him to any of us. Our family booked flights to Bangkok that afternoon for the following day, it's all we could think to do we needed to be with Hannah and to bring her home.
"In Bangkok we met with Embassy Officials who helped us with the language barrier and helped us to understand what we needed to do to get Hannah home. We collected Hannah's belongings and were told we could take Hannah and David back on the flight with us to London. We learnt some facts surrounding what had happened from our Embassy Official, speaking with the Police Chief or similar. The facts were brutal and too much to bare.
"We took our first opportunity to get a flight back to London only two days later, bringing Hannah and David home to England.
"Hannah was a beautiful, fun loving young woman who filled a room with love and happiness just by being there. She was intelligent, giving and supportive and always tried her best at everything she did. There simply wasn't a bad bone in her body; she would see the best in everyone she met. Hannah achieved so much and had so so much more ahead of her. I will never know why this happened and it will never make any sense. The pain of her not being here gets stronger each day and I have to watch her brother and sisters hurting knowing I can offer no answers. Her family is broken and will never be the same again."