Harlow's Hospital Out Of Special Measures
21 March 2018, 07:04 | Updated: 21 March 2018, 07:06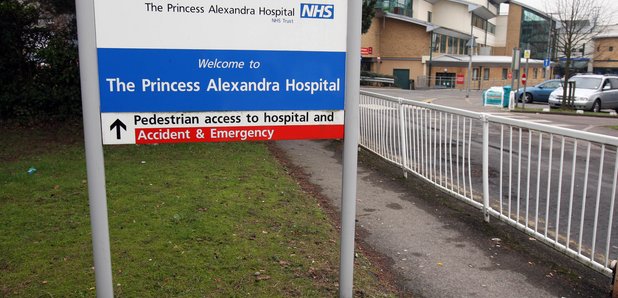 The Princess Alexandra Hospital in Harlow is out of special measures after 18 months.
It was rated inadequate in 2016, but inspectors have now found it be one level above that overall - at 'Requires Improvement'.
The Trust that runs the hospital has been told it's 'good' on how caring, effective and well-led it is.
But the Care Quality Commission says the hospital needs to better when it comes to providing safe and responsive services.
Lance McCarthy, Trust Chief Executive, said: "People have worked tremendously hard over the past twelve months to deliver major improvements in quality across our hospital services. These efforts are reflected in our triple achievement of 'Good' in the areas of 'Effective', 'Caring' and 'Well-Led', which is fantastic news for patients and the people who work here. The removal of the Trust from 'special measures' is something that I'm sure people will be celebrating today. I am enormously proud of everyone and have personally thanked our staff and volunteers across the Trust today. Together we have shown that we've got what it takes to make this Trust outstanding."
"The momentum we have created continues and, whilst this is a moment to be celebrated, we all remain committed to delivering our ambitious, but achievable quality improvement programme. At the moment we're not getting it right for all of our patients all of the time, and we are not going to be satisfied until we do - our ambition is to transform Princess Alexandra Hospital into an 'outstanding' Trust. With the scale of change we have delivered in such a short space of time, and with three out of five areas now rated as good by the CQC, the next jump to becoming a 'Good' Trust overall is clearly within our grasp.
"I am pleased to say that there were no surprises within the CQC report. We know and understand the areas where we need to make more progress. Our quality improvement plan reflects the findings of the most recent inspection and work continues to build on the good practice we have achieved so far. Our services have benefited greatly from the £7.5million we have invested into our estates this year, and we are actively pursuing our plans for a new, modern hospital at Harlow."
Professor Ted Baker, CQC's Chief Inspector of Hospitals, said: "Our return to The Princess Alexandra Hospital NHS Trust showed significant improvement had taken place. This is reflected in the trust's new rating - which has improved from Inadequate to Requires Improvement overall - and our recommendation to NHS Improvement that the trust now comes out of special measures.
"Our inspectors found a dedicated staff at the trust who had worked hard to ensure improvements were made. They also witnessed a number of areas of outstanding care, particularly in the children and young people's service, all of which was fantastic to see.
"As a result a number of ratings for the trust's services and in the key questions CQC asks when it carries out its inspections have changed. While the trust's overall rating has improved, how effective and well-led the trust's services also improved to be rated as Good overall. Previously we rated whether the trust was well-led as Inadequate overall, while the rating for whether services were effective was Requires Improvement.
"We also saw improvements in the ratings for end of life care, critical care and urgent and emergency services.
"However, this trust has to ensure it continues and consolidates this work and makes further changes so that people receive the care they should be able to expect. We have given feedback to the trust on where it needs to make improvements and we will return to check on its progress. The trust's staff and leadership should be proud of their achievement so far and they know what they must do to ensure any remaining improvements are made."
Inspectors found examples of outstanding practice at the trust, notably in children and young people's service. This included the neonatal unit (NNU) which had recently implemented a project to improve nurse-led discharges in straightforward and low risk cases, which meant nursing staff didn't have to wait for a doctor to approve patient discharge.
The critical care unit had implemented a secure medication return bin, which meant staff could return any unused medicines to the pharmacy for recycling or disposal. In the first month of use the bin saved the hospital £1,200 by recycling unused medicines.
However, the trust has been told it must make a number of improvements. This includes that the trust must ensure mandatory training improves to meet the trust's target of 95% and that staff annual appraisal completion rates improve.