Heather Mills Opens Southend Women's Hostel
18 April 2018, 14:34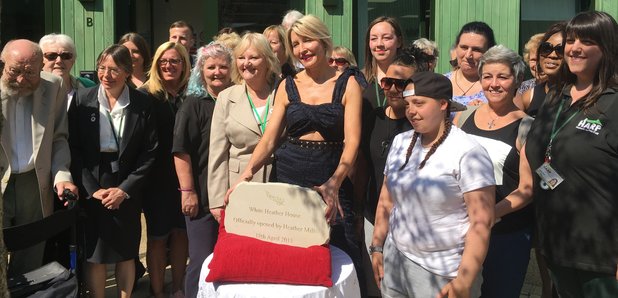 A women's hostel in Southend has been officially opened today.
Heather Mills, who has personally experienced and overcome homelessness, met staff and service users of White Heather House this afternoon, before giving a short speech and unveiling a plaque.
She talked about her past experiences and gave advice to women who'd gathered to meet her, saying "the most important thing is to re-establish yourself esteem and realise that you can move forward... I had a lot of hurdles thrown in the way and you can decide whether you're going to jump over those hurdles or whether you're going to smash straight into them and fall straight back down again - that's completely your decision, nobody else's. But you need to make sure you get all areas of your life healthy - your mental health, your food, all that kind of stuff."

HARP, who've opened the centre, support more than 1,000 people every year who are either homeless or at risk of becoming homeless, and around a quarter of their service users are women.

Research suggests that the introduction of single gender environments can give women a better chance of recovering and achieving independence. As well as providing specialist support to women, the introduction of White Heather House has also meant that HARP's overall capacity has increased to 174 bed spaces, accommodating an additional 20 people every night.

Although it is still early days, the outcomes are already looking very promising, with 33% more residents achieving a positive move on compared to our standard mixed gender hostels.