Hunting Dog Left For Dead In Maldon
29 August 2018, 17:25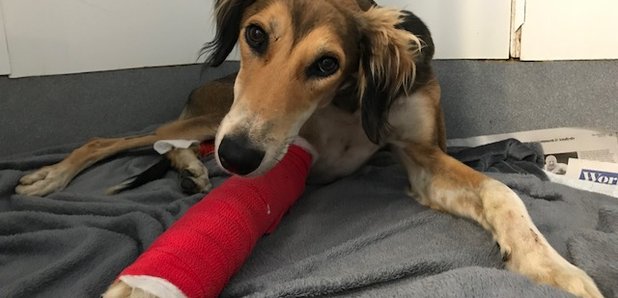 A dog who was 'left for dead' with serious leg injuries in maldon is recovering at an RSPCA hospital.
Five-year-old Saluki, Zach, was found with serious injuries in Fambridge Road, on the 16th of August.

RSPCA London veterinary director Caroline Allen said: "Poor Zach was being used for some sort of hunting when he was injured. Salukis and lurcher types are often used for illegal blood sports such as hare coarsing and locals tell us he was being used to chase rabbits and hares across the fields.

"Unfortunately, Zach seems to have chased something into the road where he was hit - according to witnesses - by a car travelling at around 50mph.

"He suffered severe leg injuries and his owners left the scene and simply left him for dead.

"Thankfully, some kind members of the public helped him and contacted us right away so we were able to get him the veterinary attention he needed."

RSPCA officers collected Zach and rushed him to the charity's Harmsworth Animal Hospital, in north London, for urgent veterinary treatment.

Zach had suffered a broken leg and also had a nasty open wound. Staff are treating the fracture and wounds with dressings, and he'll require surgery although they hope to save the leg.

"Poor Zach was absolutely terrified and must have been in so much pain," Caroline added. "It's despicable that his owners could see him hurt so seriously in this accident and simply drive away and leave him there in agony.

"We'd like to say a huge thank you to the lovely people who rushed to help him and stayed with him until we could collect him.

"Zach has been very lucky and is now getting all of the TLC he needs from our staff. Once he's recovered from his injury he'll be moved to one of our rehoming centres to find his forever home."

Police were also called to the scene after the driver of the car failed to stop following the accident.