Invictus Essex Competitor Overwhelmed By PTSD
23 October 2018, 13:02 | Updated: 23 October 2018, 13:06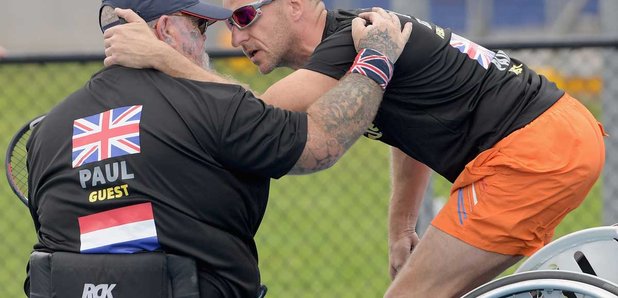 Even though the 2018 Invictus games only started this weekend, there's already been a stand out moment of teamwork and human compassion.
During a nail biting tennis match yesterday, at the Sydney Olympic Park Tennis Centre in front of a capacity crowd, the sound of a helicopter overhead triggered an emotional reaction in Essex competitor Paul Guest, making him unable to complete his serve.

Seeing his struggle, his dutch partner Edwin Vermetten rushed from the other side of the court to comfort him, hugging him and singing the song 'Let it Go' from Frozen until the moment passed.

They remained in an embrace as they spoke to each other, leaving spectators and supporters in tears.

Guest then regrouped to deliver the match-winning serve for a 7-5 5-7 (11-9 tiebreak) win.

Speaking with reporters after their triumph, Vermetten revealed it was the theme song to Disney movie, Frozen, that broke the tension from the helicopter noise."I took him by the face and said 'Look at me. We are a team so let it go... Look into my eyes and sing the 'Frozen' song, and we did.

For him, this was the moment he let go, and he did, he literally let it all go."