Knife Crime Crackdown Begins In Essex
17 July 2017, 07:07 | Updated: 17 July 2017, 07:09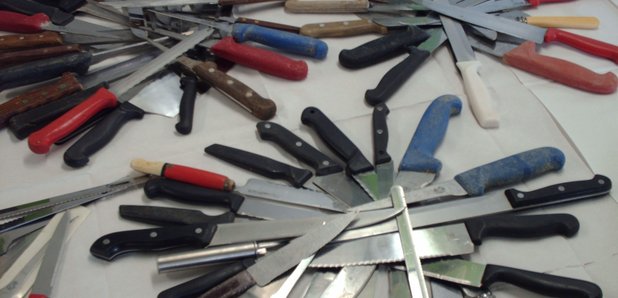 Offenders involved in knife crime will be the subject of targeted operations throughout this week, as officers from Essex Police take part in this summer's nationwide Operation Sceptre.
Between Monday, July 17 and Saturday, July 22, activity in Essex will target and disrupt offenders who carry and use knives and other bladed weapons.
Operation Sceptre – which is led by the Metropolitan Police – is aimed at those who carry and use knives, with the added objective of cracking down on the supply, access and importation of weapons.
It is part of our ongoing work with partners to tackle gang crime and associated gang activity, as well as other violent crime, including domestic abuse.
Officers and Special Constables from local policing teams, the Operational Support Group and Operation Raptor teams, will be executing warrants, carrying out roadside checks and high-visibility patrols.
Where appropriate, they will be using intelligence-led stop and search powers.
They will also be working with Trading Standards teams to raise awareness among shop owners about the importance of challenging underage customers and selling knives and bladed objects within the law.
Assistant Chief Constable, Andy Prophet, said: "Carrying a knife or bladed item means that you could be on the receiving end of up to a four year sentence.
"Essex Police takes a zero tolerance approach to the carrying of knives, and will go to every length possible to bring to justice those who commit knife crime.
"This week is a targeted extension of our day to day policing in the fight against knife crime.
"There is no place for knife crime on the streets of our county and if you do carry a knife illegally, rest assured my officers will be doing everything in their power to catch you and see justice served.
"Our commitment to tackling these offences will not stop once this week of activity has finished. Knife crime is one of our key priorities as a force and officers are working everyday to tackle this issue head on.
"Unfortunately there has been a rise in knife crime across the county, which reflects a broader national trend.
"I would like to emphasise that the public have a major role to play in assisting our work tackling this crime.
"Often, members of the community will know who is carrying knives, and we urge them to share this information with us. We understand this might be an intimidating prospect, but we remind people it can be done anonymously via Crimestoppers.
"By helping us to remove a knife from the streets, you could really make a difference to your community's safety, and even save a life."
Information about knife crime can be shared with Essex Police via 101, or where there is the immediate prospect of a violent incident, 999 should always be called.
Crimestoppers can be reached anonymously on 0800 555111.