Litter In Essex Down By 40% Following Campaign
8 January 2016, 06:48 | Updated: 8 January 2016, 06:55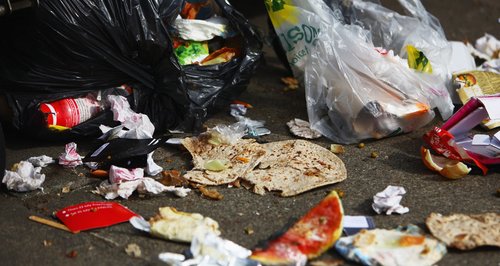 The amount of litter dropped in Essex has fallen by 40 percent following a major countywide campaign to tackle the issue, according to new figures.
Local authorities teamed up with more than 300 businesses around the county for the 'Love Essex' campaign between August and October last year.

It reminded people to bun their litter responsibly or risk a £75 fine, with messages displayed on posters, bus stops, the back of buses, fast food packaging, and across social media.

The Cleaner Essex Group, which is behind the campaign, says street cleansing in Essex costs taxpayers almost £17 million a year.

Cllr Wendy Schmitt, Braintree District Council's Cabinet Member for Environment and Place, said: "Binning your litter is an easy thing to do and makes our District and County a nicer place to live.

"I'm glad we've been able to pool resources and work together with so many others to reduce litter by 41 per cent. Essex is a beautiful part of the country so it is very frustrating when people drop litter."

Alex Cook, store manager at Braintree Tesco, said: "Tesco has a big social responsibility to help keep our county litter free and we have loved doing our bit for the campaign alongside the council.

"Our teams participated in community litter picks and as a Tesco Store Manager I am really keen to get involved in community projects like this in the future.

"This is an important step to improve cleaning up our towns and raise awareness."

Cherry Lewis-Taylor, McDonald's franchisee, said: 'I am delighted that yet again a partnership approach between businesses and councils has resulted in such a significant reduction in litter during the campaign.

"This year, a greater number of businesses were involved and sent an even more prominent anti-litter message.

"I am hopeful that the change in the public attitude, as shown from the results of the campaign, can be sustained in the longer term."