Lorry Drivers Jailed For Smuggling People Through Harwich
23 March 2016, 11:40 | Updated: 23 March 2016, 11:42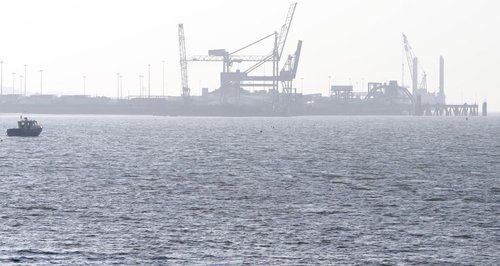 A group of lorry drivers who smuggled 68 illegal immigrants through Harwich Port among a shipment of fridges have been jailed.
The Polish drivers were stopped as a result of X-ray checks and intelligence work by border agency officials at Harwich International Port on June 4 last year.
A search found men, women and children on-board the four vehicles which were travelling in convoy from the Hook of Holland.
Dariusz Mokrogulski, 45, Dariusz Drozdz, 40, Grzegoez Czechowski, 39, and Radoslaw Cwikla, 39, admitted conspiracy to facilitate illegal entry of non-EU citizens into the UK when they appeared at Chelmsford Crown Court on Monday.
Sentencing them to five years each on Tuesday, Judge Charles Gratwicke said the case highlighted the importance of border security to protect UK citizens.
He added: "Effective border control is one way in which this country can firstly decide whether they want to let a person into a country or not and secondly it's a way of preventing people who would do harm to this country from entering into it.
"This court is not sentencing on the basis that these immigrants were intent on doing damage to this country but that it why it is so serious.''
The men had visited the UK in convoy on three previous occasions, he added.
"The clear inference being that June 4 was not the first occasion that you were involved in bringing non-EU citizens to the United Kingdom,'' the judge said.
"This was not the chance picking up of an illegal immigrant on the road - this was a concerted and planned operation.''
Laura Kenyon, prosecuting, said the men were caught with 35 Afghan Sikhs, including 11 children, 22 Chinese adults, 10 Vietnamese, including four children, and a Russian woman.
Mrs Kenyon said: "The clandestines each paid substantial sums, up to 25,000 US dollars for a couple, for transport to secure their way from their country of origin due to personal circumstances or because of their religious beliefs.''
One of the drivers told investigators he was being paid #1,000 per migrant.
Each tampered with their tachographs to hide their routes as they picked up the immigrants. It is believed they were destined for Newark in Nottinghamshire.
Their barristers said in mitigation that none of the men had been the main instigators of the conspiracy.
Hannah Sutton, for Cwikla, said: "His wife had taken out loans to purchase these vehicles. They made him an offer he could not refuse.''