Lower Thames Crossing Plans Go On Show In Public
3 February 2016, 06:00 | Updated: 3 February 2016, 08:48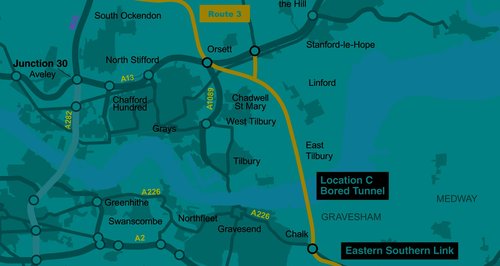 Plans for a new Lower Thames Crossing linking Essex and Kent will go on show to the public for the first time today.
Last week Highways England announced a tunnel linking the M25 via the A13 in Thurrock with the M2 in Gravesend was its preferred option.
The proposals are now being put to a 12 week consultation, running until Thursday, 24 March.
The first public exhibition where people in south Essex can see the plans and question Highways England is taking place at Orsett Hall from 11.00am until 7pm today.
Chris Taylor from Highways England says it will be a huge boost the area: "Up to £7 billion worth of investment through the life of the project and we estimate it could create 5,000 new jobs.
"By connecting people with employment opportunities in south Essex and north Kent, the economic opportunity regionally is also very rich here".
Roads Minister Andrew Jones said: "Roads are key to ensuring the nation's prosperity. As part of our long-term economic plan, we are making the biggest investment in roads in a generation.
The government is committed to delivering a Lower Thames Crossing which will increase capacity and provide better, faster journeys across the Thames".
Concerns have been raised about the crossing though, with some campaign groups claiming it will have a huge negative impact on the environment and some claiming it will not actually have any impact on traffic.
Stephen Metcalfe, MP for South Basildon and East Thurrock, is one of those against it: "Obviously I would still like it to not be there and still object to the crossing in principle.
"We all recognise we need to do something, I'm just disappointed it's this.
"If it is this, let's have an in-put and minimise the impact as best we can".
Today's public even is taking place at Orsett Hall, Prince Charles Avenue, Orsett, RM16 3HS between 11.00am and 7pm.