M11 lorry fire adds problems to 'frantic Friday'
20 July 2018, 07:38 | Updated: 20 July 2018, 07:49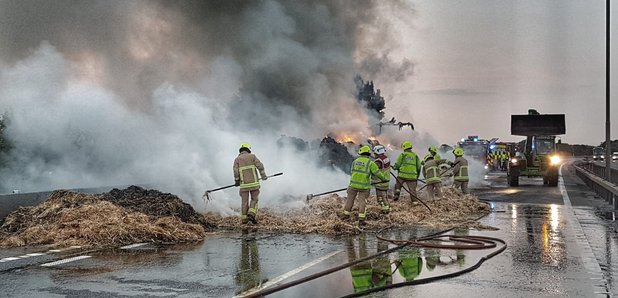 The closure of a section of the M11 Northbound this morning has added to travel problems on what had already been dubbed 'frantic Friday'.
A lorry carrying around 40 tonnes of hay caught fire last night.
It means emergency resurfacing work is having to take place - resulting in the M11 Northbound between junctions 8 for Bishop's Stortford and 10 for Duxford being closed.
Essex Police and Highways England are warning drivers heading to Stansted Airport to plan their journeys and allow extra time.
Firefighters had to use water from a large pond near to the incident in order to extinguish the fire.
The road closure comes on a day when millions are expected to head off on their summer getaways following the end of term at most schools.
The M25 is expected to be one of the most congested routes, and 148,000 passengers are expected to depart from Stansted Airport this weekend.
The AA urged drivers to carry out maintenance checks on their vehicles and take basic supplies, with high temperatures putting extra strain on cooling systems and tyres.
The organisation's president, Edmund King, said: "If your car breaks down your air conditioning might not work either, so make sure you have plenty of drinking water in the car, especially if you have young or elderly family members with you."
PIC: Essex County Fire and Rescue