Part Of M25 In Essex Closed Because Of Car Transporter Fire
6 February 2016, 09:31 | Updated: 6 February 2016, 09:47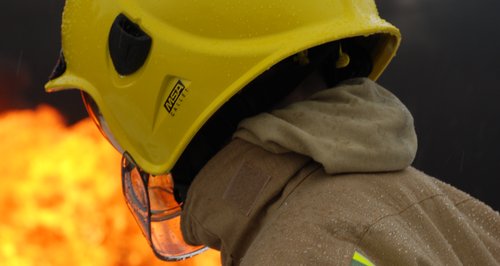 Part of the M25 in Essex has had to be closed because of a fire involving a car transporter.
Seven fire crews have been called to the stretch near Brentwood.

Essex County Fire and Rescue Service said: "Firefighters are tackling a fire between junctions junctions 28 and 27 of the anticlockwise carriageway of the M25.

"The fire has engulfed a car transporter carrying nine car. On arrival the incident commander reported that the transporter was completely alight.

"Crews are using one main jet and two hose reel jets to tackle the blaze.

"The lorry is in the hard shoulder but heat from the fire has damaged the hard shoulder and lane one of the motorway.

"Firefighting operations have been hampered by poor water supplies and a water relay has been put into action (in which appliances take it in turns to leave the scene and replenish their on board water supplies), this accounts for the large number of fire engines in attendance.

"As of 09:00 firefighting operations are continuing and the M25 has been closed because of the incident".