New Mums Supported Through Breastfeeding Lessons In Colchester
5 December 2017, 06:26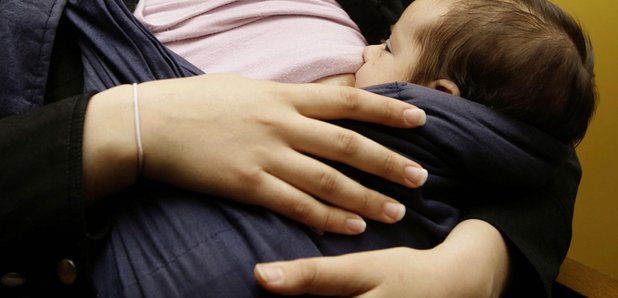 Seven mums have just started in a new voluntary role at Colchester General Hospital to support and encourage new mothers to breastfeed their babies.
The "Colchester Volunteer Breastfeeding Supporters" currently help women on the hospital's maternity ward (Lexden Ward) but the plan is for them to also go onto the neonatal unit, delivery suite and midwife-led unit (the Juno Suite) as their numbers increase, as well as visiting mothers in their own homes.
Pregnant mum Jaymini Bedia from Colchester has told Heart it is a service she would have appreciated when she first gave birth: "You're told about and you're taught about it beforehand and you can read things but you don't know what it's actually about until you do it.
She added: "It's not somebody that's getting you sorted and getting you out of the hospital - it's someone who has had an experience and is happy to share that with you if you want to listen to them and have that help there."
The volunteers have been recruited by Sue Coltman, infant feeding specialist midwife at Colchester Hospital University NHS Foundation Trust, which runs Colchester General Hospital.
Miss Coltman said that Colchester is the only hospital in Essex to have its own volunteer breastfeeding supporters and she is aware of only one other in the six counties that make up the NHS East of England region.
"Midwives often tend to focus on supporting women who are experiencing a complicated pregnancy or a complicated labour and are not always able to sit down with women for a relatively long period of time to discuss breastfeeding," she said.
"The volunteers are not taking over the role of midwives but working with them on supporting mothers to breastfeed their babies.
"We're still looking to recruit more Colchester Volunteer Breastfeeding Supporters and plan to put on a training programme for them early in the new year."
The seven volunteers, who started on Lexden Ward last week, underwent four five-hour training sessions which covered issues such as the positioning of babies during feeding and communication skills, and also shadowed midwives.
One of them, Jess Stewart, 27, of Great Horkesley, is still breastfeeding her daughter Rowan, who will be two in January, and is expecting her second child the same month.
"Everybody knows that breastfeeding is beneficial and I was set on doing it because I wanted to give my daughter the best possible start," she said.
"As a volunteer, it's important to give the women emotional support as well as showing them the best techniques."
Mrs Stewart has an insurance job in London but is now interested in pursuing a career in midwifery.
Miss Coltman said that all potential volunteers need to have had first-hand experience of breastfeeding their babies.
They are expected to do approximately one half-day session a week, which can be in the evening or at weekends. It is a voluntary role so there is no payment but the volunteers are able to park for free at Colchester General Hospital.
The seven volunteers who are currently supporting women range in age from a mother in her early 20s to a woman with grown-up children.
Anyone wishing to become a volunteer breastfeeding supporter or who wants more information is asked to contact Sue Coltman by email at sue.coltman@colchesterhospital.nhs.uk