New Tunnel Under River Announced As Lower Thames Crossing
12 April 2017, 09:52 | Updated: 12 April 2017, 10:04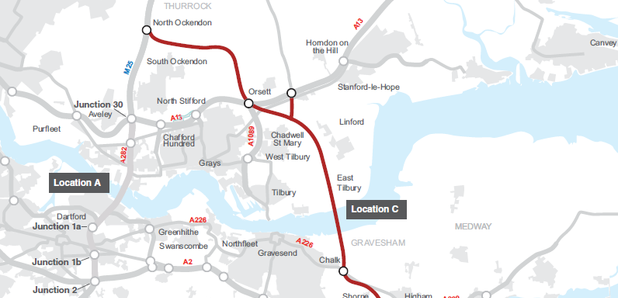 Transport Secretary Chris Grayling has today announced the preferred route for a new Lower Thames Crossing that could create more than 6,000 jobs and boost the economy by more than £8 billion.
The new crossing will create a new link between the A2 and the M25 and reduce the burden on the busy Dartford Crossing. The Lower Thames Crossing is expected to carry 4.5 million heavy goods vehicles in its first year.

This investment in our roads can help transform the growth potential of our country and improve people's journeys to and around the South East.

The planned route will run from the M25 near North Ockendon, cross the A13 at Orsett before crossing under the Thames east of Tilbury and Gravesend. A new link road will then take traffic to the A2 near Shorne, close to where the route becomes the M2.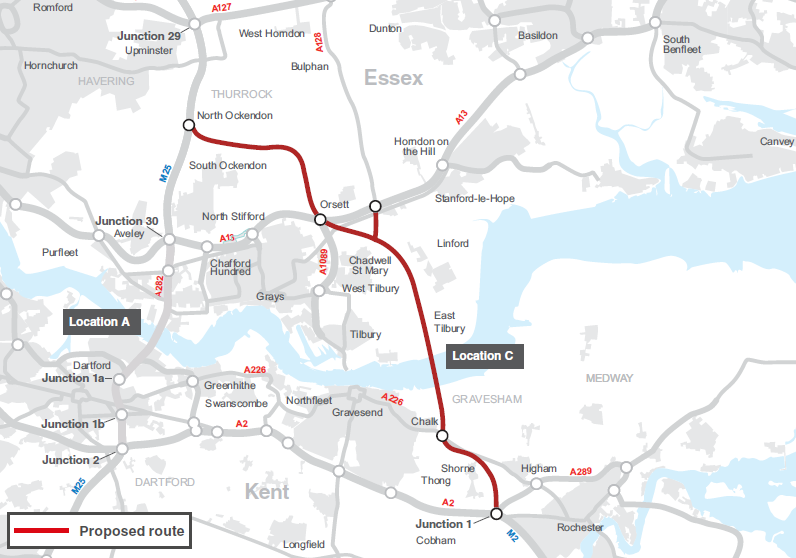 This route was identified by the majority of nearly 47,000 respondents to a consultation on a new Lower Thames Crossing as the best solution for reducing traffic and congestion at the Dartford Crossing and for boosting the economy by improving links to London and the Channel ports.

A further £10 million will be used to improve traffic flow at and around the existing crossing as well as studying ways to further tackle congestion. This will include a wide-ranging investigation into options to cut 'rat running' through Dartford and Thurrock.

Transport Secretary Chris Grayling said: "We are making the big decisions for Britain. The new Lower Thames Crossing, and other improvements in and around Dartford and Thurrock announced today, will further strengthen our economy while also creating thousands of jobs.

"Our £23 billion investment into our roads is already making a difference, with schemes being completed across the country, including the M1 Catthorpe junction and A556 at Knutsford, cutting journey times for millions of motorists.

"The schemes announced today not only show we are taking decisions, we are planning upgrades and we are completing roads - making the lives of millions of motorists better."

In addition to the Lower Thames Crossing, the government is investing a further £66 million to widen the A13 Stanford-le-Hope bypass from two to three lanes. This will help create more than 4,000 jobs and unlock development of hundreds of new houses, and improve links to Tilbury and new London Gateway ports. This investment is part of a £78.85 million Thurrock Council project scheduled to be complete by the end of 2019.

Christian Brodie, Chairman of South East Local Enterprise Partnership, said: "This is excellent news for Kent and Essex and will have a significant economic impact. The investments announced will strengthen the resilience of our UK and European connections - imperative as we now move towards Brexit.

"However, the benefits go far beyond Kent and Essex. With the current Dartford Crossing already operating at capacity and freight traffic continuing to grow, the new crossing will also support the government's wider economic aspirations for the Northern Powerhouse and Midlands Engine."

Stephen Metcalfe, MP for South Basildon and East Thurrock had opposed the suggestion and says: "I am obviously very disappointed and upset by the announcement today that the Secretary of State for Transport will proceed with Highways England's recommendation for a New Lower Thames Crossing at location C and with Route 3.
"I feel we made a good argument against Option C and associated routes and was convinced we had built a strong case in favour of sorting out the existing crossing before proceeding with any new crossings.
"Despite this I am pleased that the Secretary of State has said he looked closely at our arguments and considered alternatives but regret that he did not fully accept our points and has pushed ahead with what I believe to be a flawed decision.
"I still believe Option C and route 3 is a mistake in terms of addressing my constituents' concerns about air quality and congestion and I will not stop making that point until the very last moment.
"My main concern continues to be that if and when a new crossing is built, if it fails to solve the actual problem, there will be outrage from me and from my constituents. There will be anger that our views were not listened to and we will be asking how we made such an error?
"While I am disappointed by the decision and will still fundamentally oppose Option C3, I will want to engage with the Department for Transport and Highways England as they come forward with the detailed designs to mitigate its impact as much as possible."