One Third Of Crime In Essex Is 'Rural'
7 March 2018, 07:37 | Updated: 7 March 2018, 07:42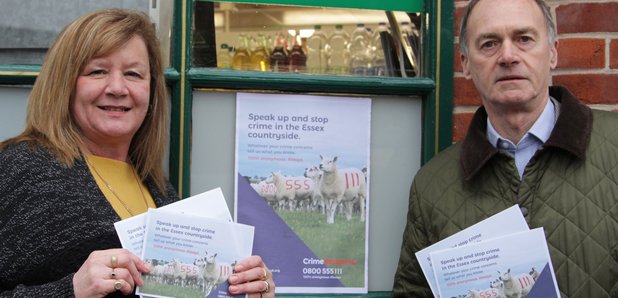 Nearly a third of all reported crime in Essex is classed as rural - now Crimestoppers say enough is enough.
They are launching a campaign against it.
They say violence is the most common category of rural crime, and want people to speak out if they see something.
With a focus on raising awareness of crime in the countryside, Chair of Crimestoppers in Essex, Stuart Rawlins, said: "Rural crime not only has a significant effect on the farming community and those who live and work in the countryside, it also impacts on those in towns and cities. Our aim is to keep the countryside safer for all of us by getting that message across using social media, leaflets and other tools.
"In countryside communities, people tend to know who's who and they may have information about crime which could be important. It could also mean they won't want to tell police because they fear reprisals. Crimestoppers charity can give them reassurance thanks to our guarantee of anonymity."
The rural crime campaign will be in three stages. Social media has already been used to target hotspot areas and more will be rolled out during the next few months. Leaflets and posters will also be distributed to a number of partner organisations, many in smaller communities in the countryside, and village magazines will be asked to help promote the campaign.
Pauline and Keith Newton, who own Walthambury Stores in Great Waltham village, near Chelmsford, know only too well the impact of rural crime. In 2017 there were three break-ins or attempted break-ins at their store and Post Office.
"We were devastated each time," said Pauline. "We work incredibly hard to serve our local community and to have our livelihood threatened by criminals was incredibly upsetting.
"As well as the emotional toll, there's the cost of the repairs, the effect on our customers and the fact we've continued to invest in new security measures. If this campaign encourages more people to speak up when they hear or see something to do with a potential crime, then we would certainly welcome it."
Crimes against property, crimes of violence, domestic violence, child abuse, trafficking and hate crimes all take place in rural communities; while rural crime itself includes theft of high-value agricultural equipment, vehicles, heating oil, metal, diesel and pesticides.
Serious and organised crime groups are often linked to rural, heritage and wildlife crime, such as hare-coursing and cannabis cultivation.
Crimestoppers can be contacted by calling the professionally-staffed 24-hour UK Contact Centre on 0800 555 111 or by using the non-traceable Anonymous Online Form.