Overwhelming Public Support For A120 Upgrades
4 July 2017, 11:58 | Updated: 4 July 2017, 12:00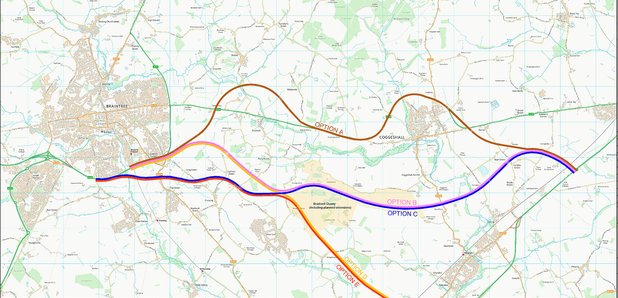 More than four out of five people believe upgrades are needed to the A120 between Braintree and the A12, a public consultation has revealed.
The news comes after thousands of people responded to a "once-in-a-lifetime" consultation exploring five potential route options for an upgrade to the current single-carriageway stretch of the A120.
Essex County Council is still analysing the detailed feedback from members of the public but has revealed that a staggering 82 percent of respondents believe the A120 needs to be upgraded to a dual carriageway between Braintree and the A12.
Cllr Kevin Bentley, Essex County Council Deputy Leader, said: "It is still early days but it is extremely positive to see an overwhelming public support for upgrading the A120.
"The A120 is a vital link for some of Essex's biggest businesses including Stansted Airport and the Port of Harwich.
"Upgrades to this section of road are vital to keep the county moving and support the continuing economic and housing growth across Essex and East Anglia.

"The next stage will see us exploring these route options in depth to ensure we present the best possible option, or options, to central Government so as not to risk missing out on this golden opportunity to improve Essex's road infrastructure."
Five options were presented to the public during an eight-week consultation which began in January 2017. The options had been whittled down by transport experts following an in-depth analysis of nearly 70 potential routes.
Essex County Council Cabinet is expected to recommend a favoured route option to the Government in the autumn.
To find out more about the consultation, please visit: www.a120essex.co.uk.