Plans Complete For Clacton Airshow 2017
22 August 2017, 12:20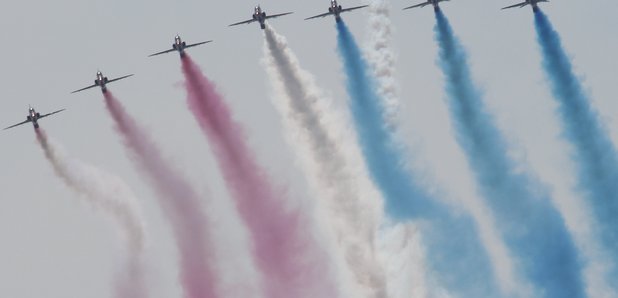 Clacton Airshow 2017 is officially ready for take-off.
The two day spectacular on Thursday and Friday has a full programme of displays and attractions – both on and off the ground – and flight fans are expected to flock to the coast.
Organisers Tendring District Council (TDC) are still very hopeful that the iconic Battle of Britain Memorial Flight will be making an appearance but that will only be confirmed nearer the time.
Mick Skeels, TDC's Cabinet Member for Leisure and Tourism, said that he is keeping his fingers crossed for good weather.
"Everything now seems to be in place and the final ingredient is the weather but there is nothing that we can do about that," he said.
"The forecast looks promising and it would be great if we can have a warm dry couple for days for this exciting event which is expected to pull in more than 200,000 people.
"The Airshow provides a vital boost for the District's economy and this year it will be followed up by the OVO Energy Tour of Britain. It is going to be a fantastic couple of weeks."
TDC will once again be selling programmes at £5 and making bucket collections and Cllr Skeels urged spectators to contribute.
"Other airshows have gone by the wayside due to the financial pressures of running such a large event and ever-increasing costs," he added.
"We are managing to keep our heads above water, thanks in part to the generosity of our sponsors and supporters but every penny counts. If everyone who has a good time just puts £1 in the buckets it will ensure the airshow for another year. After all it is free to watch."
Collectors and programme sellers are easily identifiable and will be wearing orange T-shirts.
The main event car park in West Road is overseen by Clacton Rotary Club while park and ride services are available from Clacton Factory Outlet and Holland Haven in partnership with Talisman Coach Lines.
The Clacton park and ride service is £10 per vehicle and £5 at Holland Haven.
In terms of the flying line-up the MiG-15, Strikemaster, P51-Mustang, Hurribomber, RAF Tutor, Team Raven, the Vampire Pair and Gerald Cooper are all taking part.
Also confirmed are the Tigers Parachute team; the Catalina and the world famous Royal Air Force Aerobatic Team the Red Arrows.
The popular night flights – which were introduced for the first time last year – will be on Thursday and will involve OTTO the helicopter, the Twister Duo Fireflies and will be followed by a firework display on Clacton Pier.
Clacton Airshow can also be contacted via twitter @ClactonAirshow and via its website, www.clactonairshow.com