Police Investigating Colchester Murder Links
22 June 2014, 06:07 | Updated: 22 June 2014, 06:26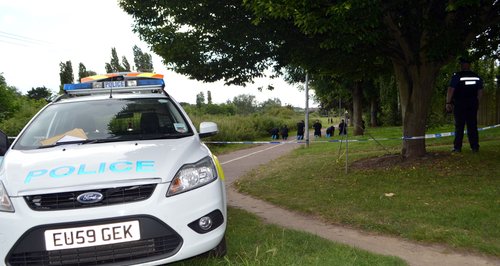 Essex Police are investigating whether two fatal stabbings in Colchester are linked.
31 year old Nahid Almanea was stabbed 16 times on Tuesday in Salary Brook Trail, a quiet footpath.
The attack came after a 33 year old vulnerable man, James Attfield, died back in March after being stabbed 100 times in Castle Park in the town.
30 detectives from the Metropolitan Police have been bought in to assist the investigation.
Officers are this morning carrying out door-to-door enquiries in Colchester, to try and uncover further information.
The murder investigations currently remain separate, but officers are investigating potential links between the two.
In a statement, Detective Chief Superintendent Steve Worron said: "We do not yet know whether the murders of Nahid Almanea and James Attfield have been committed by the same person or people.
A criminal profiler from the National Crime Agency has carried out a thorough assessment of all the evidence in connection with both murders.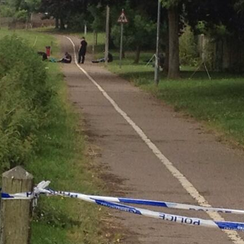 A decision has been taken that they remain separate but parallel investigations at this time.
However the circumstances of both crimes mean that we must consider the possibility that the same killer or killers are responsible.
We are continuing to explore this line of inquiry, along with many others, and both investigations are being continually resourced and are receiving equal precedence."
Earlier, detectives had said they were looking into the possibility that she was targeted because of her Muslim dress.
Police Want To Trace Two Men
Officers are appealing for help tracing two men spotted near where the Saudi student was murdered.
The first man is described as white, aged between 18 and 25, of medium build and with dark hair, was seen running up Hewes Close at around 10.56am on the day Ms Almanea was murdered.
He was wearing a long-sleeved, plain red hooded top and dark trousers.
Police are also appealing for help to track down a man who tried to attack a jogger less than a mile from where Ms Almanea was killed.
The white man, thought to be in his early 20s, around 5ft 7in and of medium build with a narrow face and possibly fair hair, tried to attack the woman in Peache Road, Colchester, at around 10pm.
Officers said the attack's location and reports that he had a knife mean this suspect is also of interest to the Almanea murder investigation.
Mr Worron added: "I still firmly believe that the answer to these investigations will come from within the Colchester community.
We continue to gather all available forensic evidence and this will undoubtedly open up new lines of inquiry.
But what I really need is to hear from anyone in the community who has any suspicions about who may have committed these dreadful crimes.''
A 19-year-old man arrested in connection with Ms Almanea's murder was released yesterday morning.
Anyone with information about the murders is asked to contact the Major Investigation Team on 01245 282103, Essex Police on 101 or contact Crimestoppers, anonymously, on 0800 555 111.