Poppy Garden Unveiled At London Southend Airport
8 November 2018, 17:09 | Updated: 8 November 2018, 17:13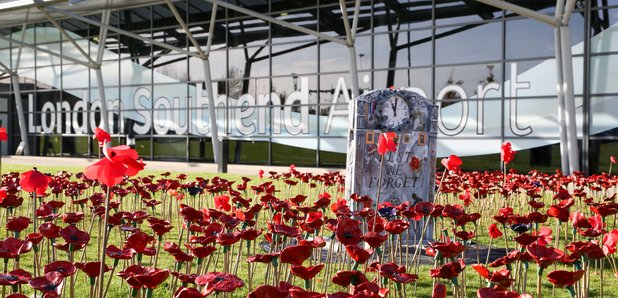 The lawn in front of London Southend Airport's terminal building is looking very different at the moment.
A commemorative community poppy garden has been unveiled today, featuring 2000 red ceramic poppies made by hundreds of children from 25 schools across Southend.

It's a special dedication to remember the fallen of Southend and Rochford, who lived and served their country a century ago. It is located at London Southend as the airport was first established during the First World War as RAF Rochford.

The Poppy Garden also extends inside the terminal with a huge tapestry made by recycling discarded red t-shirts, created by artist Ali Ward and pupils from Kingsdown Special School.

Beth Hooper, who is creative director of blade education, who were commissioned by the airport to create the piece, told Heart "We wanted to do something quite gentle... remembrance is something we don't want to frighten children about but we want to introduce them to gradually but I also think the poignancy is really important... and what I think is lovely about the outside garden is it's very pretty and that's what kind of what we were looking for. We were looking for the sadness as well as the beauty in it and the nostalgia and the children have really engaged with that".

It's all been put together in four weeks which she says was "quite a turnaround".

The poppies will be on display until the 22nd of November.