Praise For Tendring In Face Of Flooding
16 January 2017, 08:25 | Updated: 16 January 2017, 08:33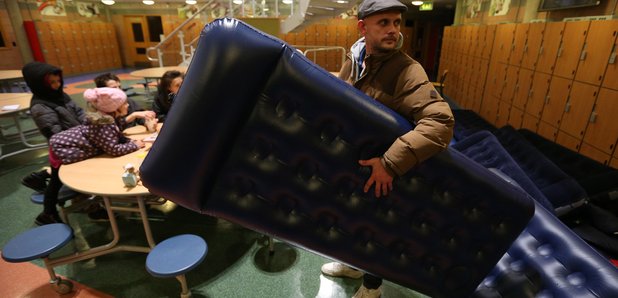 The Tendring Community was praised today for the way it rallied round to support those who were affected by the threats of a tidal surge and flooding in the area.
Around 250 residents and more than 50 pets took refuge in a rest centre set up in Tendring Education Centre in Jaywick Lane over two days.
They started to arrive from 9.30pm on Thursday and 17 spent the night there before others joined them on Friday.
Numbers peaked on Friday evening before people were given the option to return to the homes around 2am on Saturday morning.
About 40 – some with young children – decided to sleep it out until later in the day when it became light.
The rest centre was manned by staff from Tendring District Council, a social care team from Essex County Council, British Red Cross, paramedics, and other volunteers who all played their part.
Neil Stock, Leader of TDC, said it was a massive community effort and many others offered to help out if needed.
"It really tests the spirit of a community when an incident like this occurs and Tendring came through with flying colours," he said.
"I can only thank every single person who helped out in any way and from the feedback we have received I know the residents of Jaywick and elsewhere who needed to take refuge were extremely grateful.
"It really was a team effort and along with our partners at Essex Police, Essex County Council, the Environment Agency and many others, everyone pulled together to ensure the safety of those at risk."
TDC Chief Executive Ian Davidson said people came to the fore and showed true community leadership at a time when they were needed most.
"Our own staff were fantastic and I cannot praise them highly enough," he added.
"It just shows how much they really do care about the residents that live in our District and that they are prepared to go the extra mile – and more – for them at a time like this.
"We were delighted that all our emergency planning preparation with all our partners paid off and we were able to swing into action very quickly and efficiently.
"This does not all come together by accident and a great deal of training and mock incidents are staged each year to ensure we are ready for when the worst happens."