Prince Harry Visits Chelmsford
14 September 2017, 14:14 | Updated: 14 September 2017, 14:22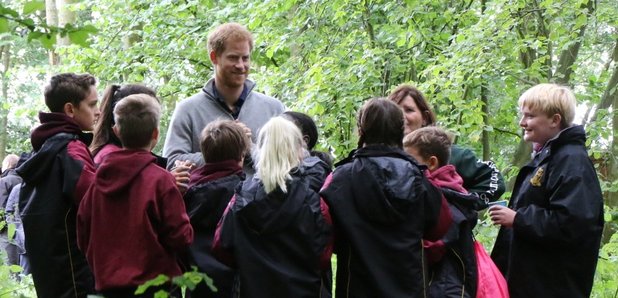 Prince Harry's been visiting Little Waltham's Chatham Green Project run by Wilderness UK in Chelmsford today.
He watched on as school children got soaked during a visit to the conservation project that aims to teach youngsters to value the countryside.

Children from Felsted School in Felsted had built shelters between trees using sticks, rope and tarpaulin as part of a survival course.

An instructor threw a bucket of water over one shelter as children sat inside it to test whether it was waterproof, and there were shrieks and giggles from the children as water poured through a hole in the roof and drenched them.

As children clambered out of the den Harry shook the instructor's hand and said "that's cruel!"

One of the children said "we survived".

The Prince, joking with the children, said: "How did you allow this to happen? I'm serious, look, how did you allow that to happen?

"I think what you need to do is you need to remake it and then put him (the instructor) in it."

Harry also spoke to youngsters making nettle and mint tea, and saw children lighting fires.

The project is an education programme which aims to teach more than 3,000 pupils each year to take action to protect the countryside and our wider environment.

Harry, who will celebrate his 33rd birthday on Friday, was told about the work of the Wilderness Foundation and some of its key conservation projects in the UK and abroad.

He also met teenagers who were taking part in the charity's TurnAround programme, which uses outdoor adventures and intensive mentoring to help young people aged 15 to 21 to overcome family, social and personal problems.