Protesters Close A127 Near Basildon For Five Hours
17 February 2016, 06:50 | Updated: 17 February 2016, 06:52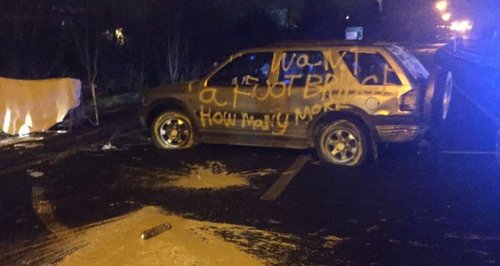 Protesters demonstrating over the death of a 13 year-old boy have caused the A127 in Basildon to be shut for around five hours overnight.
They parked cars across the London-bound carriageway at around 9.45pm.

The group staged the protest close to where a teenage boy died following a collision with a car on Monday.

Several of the group were pictured standing on top of a 4x4 daubed with slogans in white paint.

In photos posted online one of the cars had the message "We want a footbridge - How may more?'' scrawled across its side.

However the handling of the protest by police caused anger among some of the motorists caught in the tailbacks.

Sarah_T_182 wrote on Twitter: "a127 still not moving! Been here since 10pm, it's freezing and no one is getting anywhere!''

Meanwhile obi_ben_n tweeted: "An hour and a half stuck still on the A127 whilst protesters wander up and down drinking beer. @EssexPoliceUK pull your finger out.''

"No sleep tonight it is then..... #StuckOnRoad #A127'' said endersusf.

Those stuck in the jam said they were only permitted to U-turn after around four hours at a standstill.

An Essex Police spokeswoman said they worked hard to "achieve a resolution as quickly and safely as possible'' and several diversions were put in place.

Officers were called to the scene at around 9.45pm on Tuesday where they found a "large number of people and vehicles'' had blocked the highway.

A helicopter was eventually scrambled to monitor the crowd and both carriageways on the London to Southend arterial road were closed until around 2.45am on Wednesday.

The force earlier said a 31-year-old driver of a BMW car involved in the incident at around 8pm on Monday was arrested and bailed pending further inquiries.
Picture credit: @carpingpel