Southend shoppers asked not to give to beggars
1 November 2018, 06:00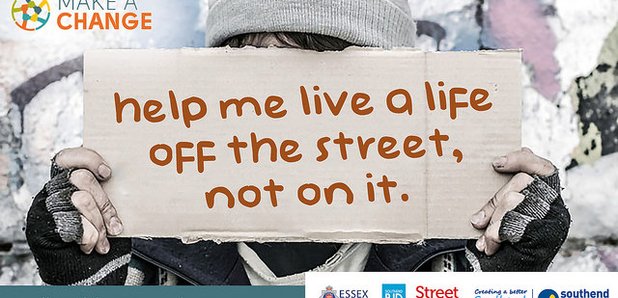 Shoppers in Southend are being asked to consider donating to homelessness charities instead of giving change to street beggars.
A campaign called 'Make a Change' has been launched in the town. It aims to get people living a life off the streets - not on it.
It comes as Southend faces an increase in rough sleepers in the town as well as aggressive begging.
'Make a Change' is also part of an action plan to improve the High Street.
It's encouraging people to alert Streetlink to any rough sleepers too - this sends a notification to the council who will send outreach staff to engage with them.
Cllr Tony Cox, Cabinet Member for Adults and Housing, says: "It's often hard to walk past a person on the street without doing something. Giving change only provides immediate relief and can enable and even encourage life on the streets.
"So we are asking people to consider giving to a local homelessness charity and also alert Streetlink to any people rough sleeping. It is likely that we will already know them but you can never be too sure. Alerting Streetlink allows our outreach team to visit them and attempt to support and connect them with services."
Cllr James Courtenay, Deputy Leader of the Council, says: "This campaign is not about telling people what not to do, but it does ask people to consider making a change to how they give. By supporting local homelessness charities people can contribute to supporting someone get off the streets for good.
"We also hope the campaign discourages aggressive begging, a key action from the High Street summit and a current issue in the local area. Aggressive begging is intimidating and unwanted and has a detrimental impact upon our local community and needs to be deterred."
The campaign will initially centre on a new website (www.southendchange.co.uk), and highly visible posters, public information vans and leaflets in the High Street and surrounding areas, plus a social media campaign #SouthendChange.