Stansted apologises for baggage delays
23 July 2018, 07:12 | Updated: 23 July 2018, 13:11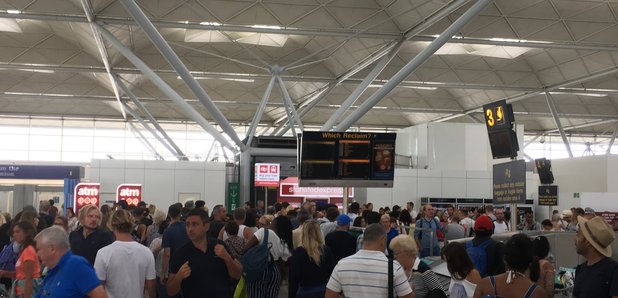 Stansted airport has apologised after passengers were left waiting for hours at the baggage reclaim yesterday.
Angry customers on twitter described delays 'left, right and centre'.
The complaints have continued overnight.
"@Ryanair sitting at Stansted at 11pm, luggage PROBABLY arriving in 90 minutes. Others have been waiting for two hours. GREAT!!!" tweeted @epfunk.
@BitOfALegalGeek said: "2.48am, Stansted Airport baggage reclaim is packed. Swissport are making periodic announcements apologising. Sterling work everyone. Sterling."
Baggage services are provided by the airlines and their preferred handling agent.
Swissport, the agency which manages the baggage services for all Ryanair flights, said:
"Due to an increased volume of flights, air traffic control restrictions led to a significant number of aircraft arriving at Stansted off-schedule.
"Unfortunately the knock-on impact of these late arrivals led to baggage delivery delays, despite having planned for a level of off-schedule flights.
"We apologise to customers for the inconvenience and will continue to work with our airport and airline partners to provide the best possible travel experience for passengers at this busy time of year."
A London Stansted Airport spokesperson said yesterday:
"We are aware that some passengers experienced delays with collecting their baggage on returning to the airport this morning (22 July). This is disappointing and must be extremely frustrating for people. We can only apologise on behalf of everyone at Stansted Airport.
"We have organised for additional staff to supplement the Airline and Handling Agent teams over the summer holiday period and will continue to work with all our partners to understand what is causing these recent delays and help minimise the impact on passengers."