Two Jailed After Man Shot During Burglary
23 January 2017, 15:14 | Updated: 23 January 2017, 15:25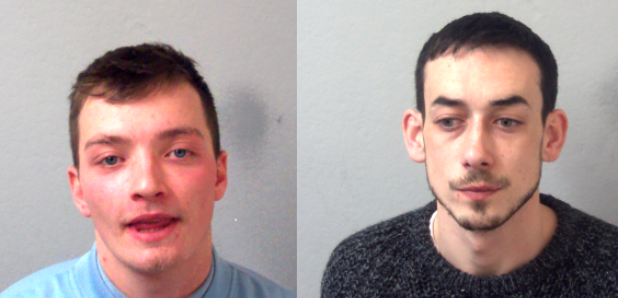 Two men have been jailed for a total of 40 years over an aggravated burglary in Sible Hedingham where a man was shot and suffered life-changing injuries.
Charlie Simms (pictured in blue top) who's 23 and of North Road in Great Yeldham and Christopher Bergin (pictured in black top) who's 27 and of Hawkwood Road in Halstead were sentenced today.
Simms and Bergin forced their way into a property in Rectory Road in the early hours of February 6, 2016 believing drugs were being grown there.
They threatened the victim, 41 year-old Tim Mardon, who had locked himself in a bedroom.
Mr Mardon was then shot through the bedroom door, suffering a serious leg injury and an arterial bleed.
Simms and Bergin made off after stealing his watch and some foreign currency, leaving the victim bleeding to death.
Mr Mardon's life was saved due to the quick thinking of the attending officers who used a tourniquet on his injury.
DCI Leighton Hammett said: "Charlie Simms and Christopher Bergin are violent, dangerous men who deserve to be behind bars.
"The severity of this attack, which was conjured up on a whim following a heavy night of drinking and smoking drugs, is reflected in the length of their sentences.
"Essex will be a safer place now Simms and Bergin are behind bars, and they will now spend the foreseeable future reflecting on their crime and the impact their actions have had.
"I hope this sends a message that Essex Police will not tolerate this sort of crime and we will bring those responsible.
"I would once again like to thank Mr Mardon and his family for their courage through the investigation and trial, and my officers whose quick thinking saved his life."